It's probably not surprising that the world's largest social media platform would launch the world's largest garage sale, but that's basically what Facebook did. Since its introduction in October 2016, Facebook Marketplace has become a top online selling platform with more than 800 million monthly users in 70 countries. But how does Facebook Marketplace work?
Online marketplaces are a fast-growing part of the e-commerce economy. Last year, the 59 largest U.S. marketplaces did $525 billion in sales; excluding Amazon, online marketplaces grew by more than 15% in 2019. Facebook Marketplace was a driver of that growth, increasing its sales by nearly 50% to $40 billion in 2018. Facebook CEO Mark Zuckerberg said 1 in 3 people in the U.S. uses Facebook Marketplace.
What is Facebook Marketplace?
If you've ever bought or sold items on Craigslist or eBay, you understand the concept behind Facebook Marketplace. The platform lets you search for, browse, buy and sell items on a peer-to-peer basis, bypassing a third-party retailer. What makes Facebook Marketplace unique is its social factor: You can view each other's Facebook profiles and chat over Messenger before and after a transaction.
Before launching Marketplace, Facebook realized there were already more than 450 million users visiting buy-and-sell groups every month. The new platform leveraged the groups' popularity and expanded on it, giving users a dedicated tab for peer-to-peer shopping.
The current Marketplace platform is a reboot of its failed 2007 Marketplace classified ad service. The earlier version never gained traction with users, and Facebook transferred control of the service to Oodle in 2009. In 2015, Facebook began testing a local shopping service that ultimately evolved into 2016's Marketplace platform.
Facebook went big on the new Marketplace rollout, giving the Marketplace icon center stage on the navigation bar and incorporating it into the Messenger icon. The company bet that "social selling" would be hugely popular with its user base, and that by influencing a larger share of online commerce, it would also grow its own revenue indirectly with Marketplace ads.
The gamble paid off handsomely. In its first year, the number of unique Marketplace connections increased by 77% and more than 18 million new products were listed in an average month. In 2018, Zuckerberg said profits from the Marketplace service increased by nearly 50%.
How does Facebook Marketplace work?
Online shopping is easy with Facebook Marketplace; anyone can buy and sell through their personal or business Facebook account. You conduct transactions through Messenger and don't need to set up a separate Marketplace account.
To get started, click on the Marketplace icon on the left-side bar of the desktop app, or click the menu button on the bottom of your mobile app and select Marketplace from the list.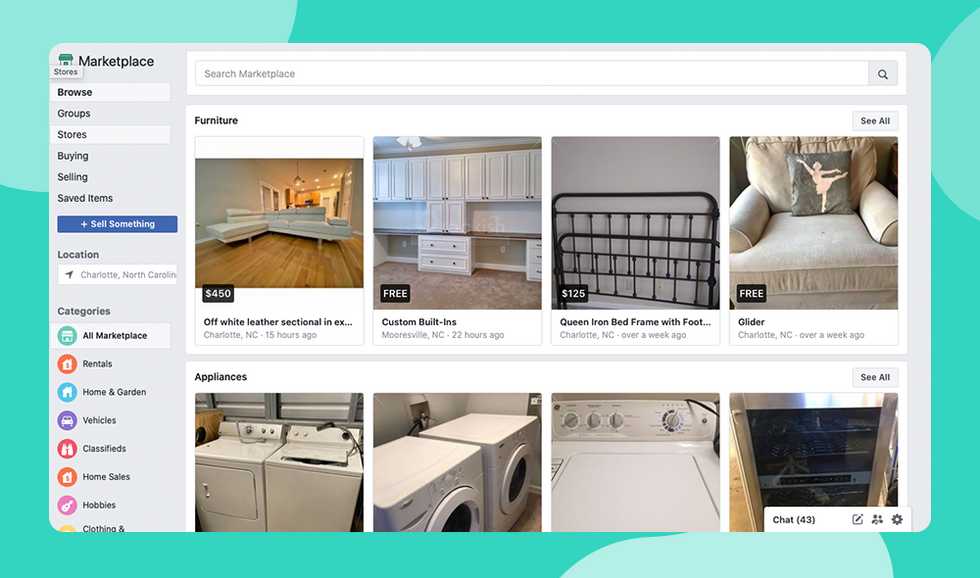 From there, you can browse categories, stores and groups to find items for sale. You can also adjust your location settings to narrow your search. If you want to buy something, click Send to send a generic "Is this available?" message to the seller. You can also click the Messenger icon to send a custom message.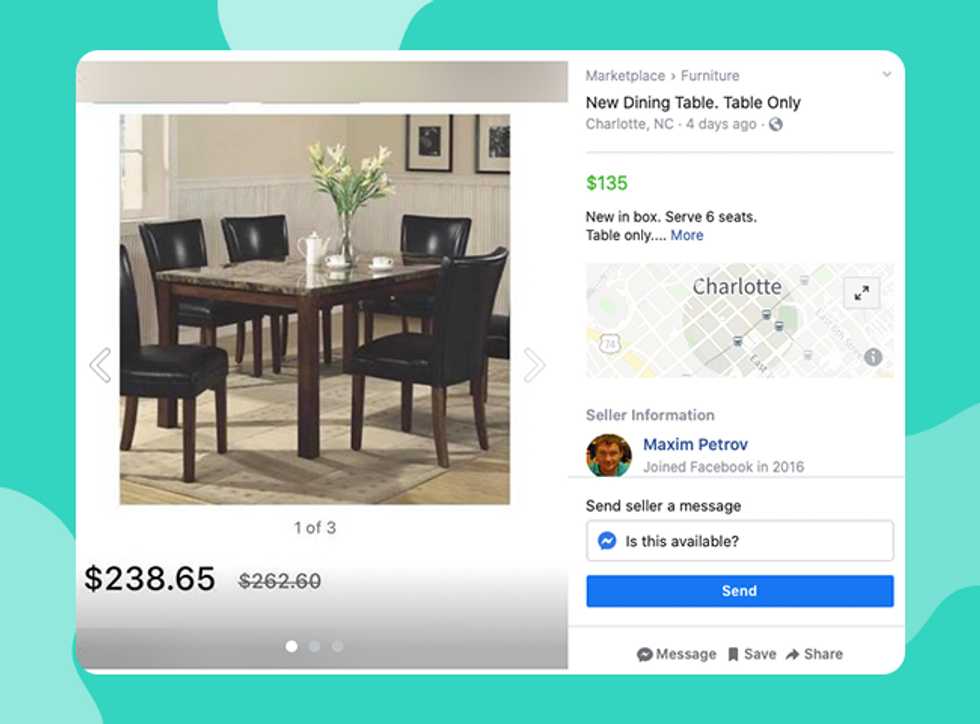 If you want to create a listing for an item you want to sell, simply click the Sell Something tab and select the item category.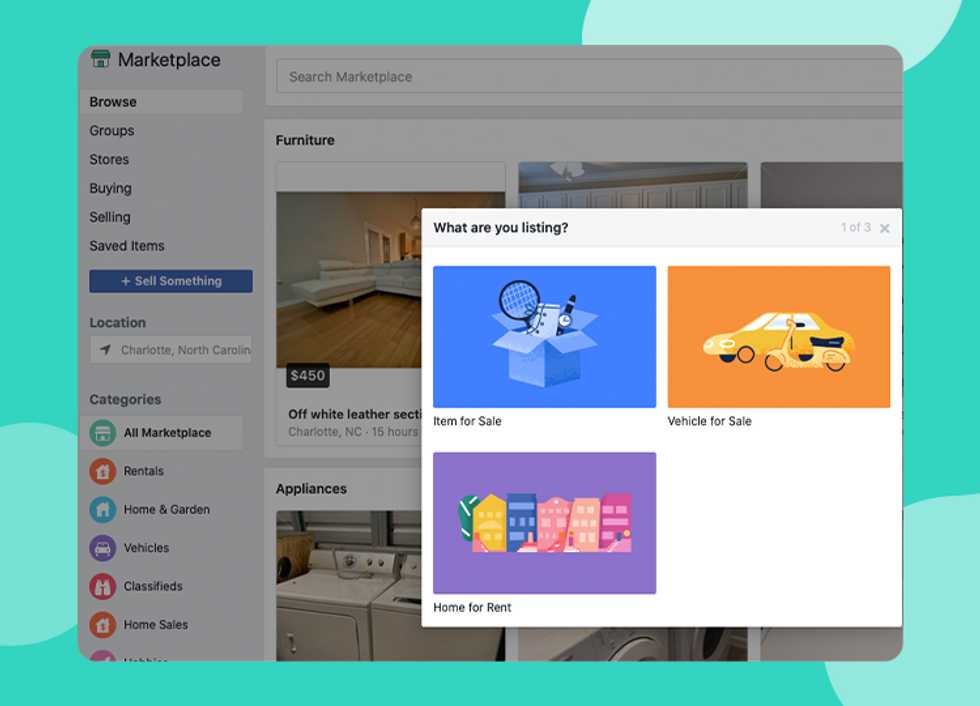 Then you'll be prompted to complete a description and add photos.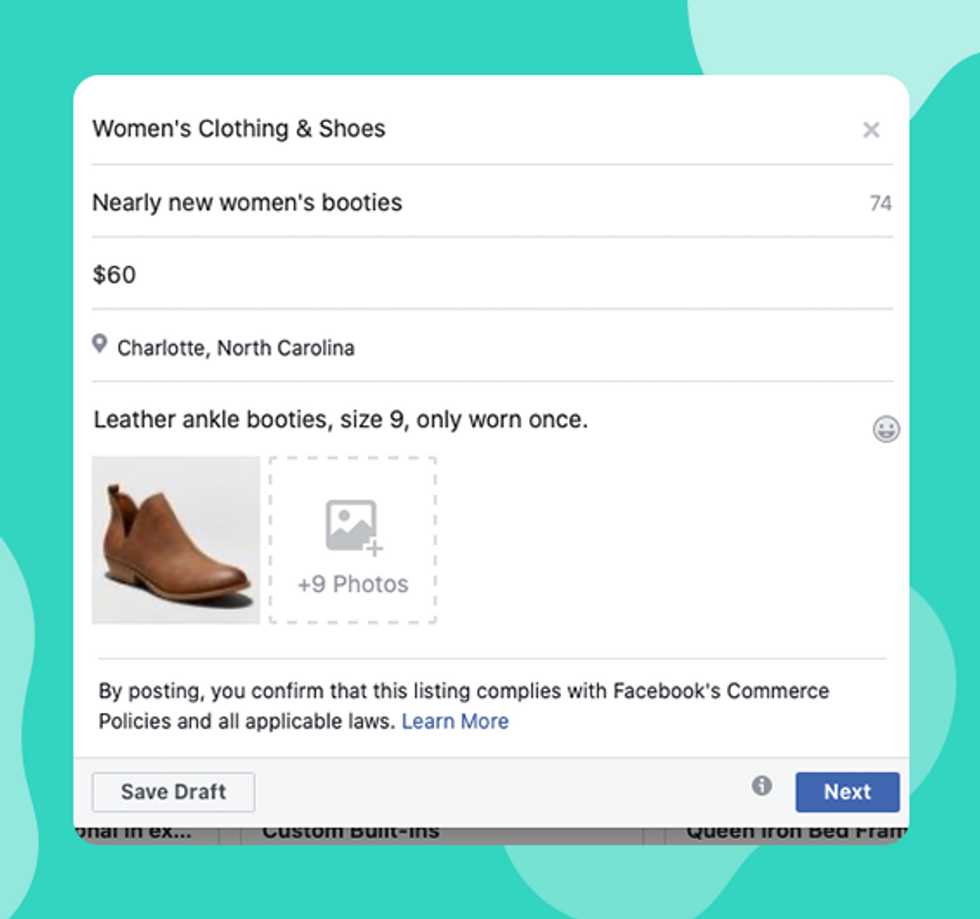 Once you've filled in all the required information, click "Post," and your item is officially listed in the Marketplace. Facebook automatically creates a Marketplace profile for you once you list your first item.
Transactions are handled through Messenger; Facebook Marketplace accepts debit and credit cards as well as PayPal accounts for payment. When you sell something, the money is added to the debit card you have on file with Messenger.
What can I buy and sell on Facebook Marketplace?
You can buy and sell pretty much any physical item on Facebook Marketplace, although the company does forbid a few particular items and categories:
Services such as house cleaning, lawn care or babysitting
Electronic or physical concert and event tickets
Electronic or physical gift cards
Pets, either for sale or adoption
Items related to health care, such as first aid kits and thermometers
In addition, you can't post before-and-after pictures if you are selling a weight-loss or skin-care product, for example.
Popular Facebook Marketplace categories
When you think of Marketplace as a huge garage sale, you get a good idea of which categories do well on the platform. Of course, different things sell better in different areas, but some of the top items and categories include:
Household goods such as furniture, gaming consoles and electronics
Antiques and collectibles
Clothes, toys and equipment for kids and babies
Outdoor items such as lawn mowers, yard tractors and patio sets
Remember, Facebook Marketplace offers a local, peer-to-peer shopping experience, so if you have items to sell that would be expensive to ship, you may have better luck on Marketplace since buyers can pick up their purchases. Marketplace is also a good option for low-value items, such as old books and DVDs, in which shipping costs would outstrip the cost of the items themselves.
Is Facebook Marketplace safe?
In some ways, Facebook Marketplace is safer than other online marketplaces. Facebook guarantees transactions made through the platform with a purchase protection policy, which refunds your money if you don't receive your item or the item wasn't as described.
It's also arguably safer than other marketplaces such as Craigslist because it doesn't allow anonymity. People who transact business on Facebook can view each other's profiles, but Craigslist lets people set up anonymous accounts. This aspect of social selling can build confidence between the parties in a way other marketplaces don't allow.
Obviously, people can set up scam Facebook profiles, but you can learn a lot about someone from a Facebook profile. You can see how long the person has been using the platform, view past Marketplace activity and report an account that looks suspicious.
It's always good to be alert to potential Facebook Marketplace scams. Here are some tips to try and avoid getting ripped off—or worse—when you use the platform:
Watch for red flags, such as sellers who appear on a local page but live out of area and are only connected to a few friends. If you encounter one, a people lookup service or reverse image search can help clarify the seller's identity.
Be alert to sellers who use something other than a photo of themselves as a profile picture.
Check their public posts for spam links to things like weight-loss pills or erectile dysfunction medications, as these could point to a scammer.
Use caution on listings with a single photo. Reputable sellers will post multiple pictures including things such as receipts, product labels and appraisal letters.
Meet up in a safe place to exchange items and payment. Many police stations have safe meetup zones in their parking lots or lobbies, so you have more protection during the transaction.
Facebook also offers several guidelines to help protect your privacy and security when using the Marketplace app:
Never share personal financial information such as your PayPal account credentials. If you're selling a phone or other electronic device, make sure you delete all personal data.
Always see high-value items in person before you pay for them.
Use peer-to-peer payment options such as Messenger or PayPal, or pay in cash at the time you pick up the item.
Watch out for car deals that seem too good to be true. Check the Kelley Blue Book value before you contact the seller, and ask for a Carfax report or other vehicle history. Beware of sellers who won't agree to an independent inspection before the sale.
Follow safe meetup practices: Let a trusted friend or family member know where you are and bring someone with you, if you can. Meet in a public place and try to learn more about the seller's identity with a people search, especially if the seller's profile is short on details or history.
Facebook Marketplace alternatives
While Facebook is the largest social media platform by far, it's not the only game in town when it comes to online marketplaces. If you can't find what you're looking for on Facebook, or you want more options for selling your stuff, try these Marketplace alternatives.
Craigslist: Craigslist was the initial classified ad disruptor, and it's still hugely popular with buyers and sellers. The user interface isn't fancy, but the filters make it easy to drill down to the items you're looking for. You can be completely anonymous on Craigslist; there are no barriers to entry. Craigslist doesn't charge anything to buy or sell items, but it also doesn't offer any protection if a transaction goes bad. They recommend paying in person with cash or check only.
Amazon Marketplace: This is the largest U.S. marketplace by far; the range of products is enormous. The service is free to buyers, but there are fees for sellers. A professional account is about $40 a month for unlimited items, and individuals can sell up to 40 items a month and pay 99 cents per transaction before they need to upgrade. If you sell handmade items, you have to pay the $40-a-month fee, plus Amazon keeps 12% of your sales. On the plus side, Amazon handles the payments and offers buyer protection.
eBay: This is another massive online marketplace where you can buy and sell a huge variety of items, including previously owned merchandise. Sellers can list up to 50 items a month free of charge, then pay 35 cents per listing after that for most items. EBay keeps a percentage of the final value of the item sold, usually around 10%, but they also offer a money-back guarantee.
Etsy: This is more a crafter's and artisanal goods marketplace where you can find anything from dog costumes to handmade soaps. Etsy's audience is more narrow and targeted, so you won't reach as many shoppers on the platform, but they may be more motivated to buy. Etsy makes money by charging 20 cents per listing and 5% transaction fees. It also charges a payment processing fee of 3% plus 25 cents, but there is no money-back guarantee for buyers.
Letgo: Letgo is a peer-to-peer app-based marketplace for used goods. You can buy and sell furniture, electronics, cars, clothes and other popular consumer goods in your local area. Buyers and sellers can review each other's profiles and chat with one another through the app. Letgo doesn't handle any payments or offer any buyer protections. It's 100% free to use for both buyers and sellers.
OfferUp: OfferUp is a mobile-only local marketplace primarily used for household goods. Some users call it a hybrid of eBay and Craigslist—you get the verifiable user profiles of the former with the ease and anonymity of the latter. With OfferUp, users can be independently verified through the app, but still maintain privacy in their online interactions. Sellers pay 7.9% in transaction fees, including payment processing.
5miles: This is a hyper-local peer-to-peer selling app that limits your reach to 5 miles from your current GPS location. It's very easy to use: Just snap a photo of the item you want to sell, post it and share the listing on social media for more exposure. The app uses an auction-based system, so buyers bid on the items they are interested in. The app doesn't handle any payments, but it does offer a safe-exchange area locator to facilitate transactions. Sellers can buy memberships to boost their visibility with buyers; prices depend on the package and services you choose.
A global network of people who want stuff
Buying and selling stuff has come a long way since the days of garage sales and newspaper classifieds. It's easier than ever to locate a hard-to-find collectible or sell the baby gear your toddler outgrew.
For regular Facebook users—about 70% of Americans—the new Marketplace is a great way to combine social interaction and online commerce. Bargain hunters can find great deals, and those looking to make a little money have an easy side hustle unloading used goods. As one seller raved in the 2019 E-Commerce Sellers Choice Awards said, "Ease of use is the best BAR NONE. I mean take a picture, description post, local buyers, no shipping involved! I have made a ton of cash here."
Online marketplaces are the wave of the future. E-commerce sales are growing steadily as a share of overall sales and don't appear to be slowing down anytime soon. Facebook Marketplace offers a safe and familiar way to get a piece of the action, whether you're shopping for bargains or have stuff to sell.