Thanks to online marketplaces such as Mercari, buying and selling virtually anything on the internet is now possible.
Online shopping is generally safe. But based on some of the publicity it's gotten, you may wonder: Is Mercari safe?
In short, yes. Though like anything else, there are some precautions you should take when dealing with strangers.
What is Mercari?
Mercari is an online peer-to-peer marketplace that lets people directly buy and sell goods. Originally a Japanese company and app, Mercari reached the United States in 2014 and has been expanding ever since.
According to Mercari, the app has been downloaded from Google Play and the App Store more than 50 million times. More than 350,000 new items are listed for sale each day, making Mercari one of the largest online marketplaces.
Mercari works like eBay and other ecommerce platforms. The big difference is that it tries to make shipping easier. When you buy something on Mercari, a shipping label is automatically generated for the seller, which they can use to send the item.
Mercari is also cheaper, charging a flat 10% fee for all transactions. Here's how this compares to the fees charged by other online marketplaces:
eBay: Free to list if you list fewer than 250 items per month. After that, the charge is 35 cents per listing. Beyond that, eBay charges 12.55% of the total sale, plus 30 cents per order.
Offerup: Shipped items get charged a minimum $1.99 service fee or 12.9% of the sale price. In-person cash transactions are free.
Poshmark: $2.95 for items under $15, 20% of the sale price for items over $15.
Depop: Like Mercari, Depop charges a flat 10% fee on all items sold.
In addition, Mercari holds onto your money until your item is delivered. This is intended to make the transaction more secure for the buyer.
Is Mercari safe?
Yes, many feel that Mercari is legitimate and generally considered safe to use.
That said, the use of any online marketplace to buy and sell goods over the internet is bound to include some risk.
Taking basic precautions and understanding how to use the platform may help users avoid potential threats and scams.
However, if you go onto review sites, such as the Better Business Bureau, Sitejabber or Trustpilot, you might get a different impression.
A lot of these sites feature customer complaints accusing Mercari of having scammed them. This led the app to receive some negative publicity as well as some terrible ratings.
Mercari isn't perfect but you're no more likely to get scammed on Mercari than you are on any other app.
How do people get scammed on Mercari?
Compared to some other ecommerce platforms, Mercari's protections try to make scams less likely. However, reviewers complain about a couple of scammy practices, as follows:
Return scams
The majority of scams that people report on Mercari have to do with returns. Mercari guarantees returns as long as they're initiated within three days. But they only facilitate them. For the return to be processed, you must get the return shipping label and bring it to the post office or other shipping provider. Confirmation of receipt and refunding shoppers is up to the seller.
Scammers can exploit this by claiming the item never made it back and denying your refund.
When this happens, you have to try and prove to Mercari that you not only sent the item back but that it was successfully delivered, which you will need to do using receipts and tracking information.
The process can get messy because it involves one person's word against another's. Based on negative reviews, Mercari doesn't have the best reputation for dealing with this efficiently.
Sellers who try to pull this move can still claim they never received the return. But if you sent the item and got confirmation it was delivered, you should eventually get your money back. It will probably just take time.
Wrong items
Another common thing people call a scam on Mercari is not getting the item they wanted. Shoppers place orders based on the photos they see and the descriptions they read. But when the item arrives, something doesn't meet their expectations. Either it's the wrong item or it's not in the condition described.
If the item you ordered is the wrong size, wrong color or somehow not what you expected, this is typically a miscommunication between the seller and buyer. That is one of the risks when buying something from an anonymous seller on the internet, similar to making purchases on eBay, Facebook Marketplace or many other sources.
When a seller is being dishonest, you can report them to Mercari. If they get enough of these reports, Mercari may take action against the seller, usually by suspending their account.
All in all, there is no one "Mercari scam." Instead, there are the usual mishaps that can come from online shopping and selling. But if security is your concern, Mercari appears to be no less safe than any other peer-to-peer online retailer.
How to avoid scams on Mercari
Because the Mercari scams people report are not usually the fault of the app but rather people–its buyers and sellers, taking a few of the following basic precautions when using Mercari may help make it more secure to use.
Use common sense
When using Mercari, use the same common sense judgment you would use if you were shopping at any other market.
For one, don't expect professional sellers. They are regular people just like you. If you want the type of service and attention you get shopping at a store, Mercari may not be the right place for you.
Also, do some research to find out what items should cost, and be wary of any suspicious behavior.
For example, if someone is trying to get your personal information or contact you outside of the app, you should stop communicating with them immediately.
Protect your personal information
Whenever you're on the internet, you should always safeguard your personal information, which includes but is not limited to your name, address, Social Security number, bank information and birthdate.
To use Mercari, you will need to provide payment information as well as your address. But you shouldn't give up any other information, especially if a buyer or seller asks for it.
Follow the rules
Mercari has set up guidelines for using the app to try and keep people safe and prevent scams.
This includes keeping the conversations on the app civil and related to the items in question. This also means being truthful and honest.
If multiple people report you listed something inaccurately, Mercari may come after your account.
Also, make sure to avoid transactions involving items prohibited by Mercari. If you do try to buy or sell these items and get scammed, Mercari won't help you.
Only use the app
The most important rule to follow when using Mercari is to keep everything, from communication to payment, inside the Mercari app. The moment you step outside the app, you are no longer covered by Mercari's protections.
Use a credit card instead of a debit card
Although your payment information is safeguarded on Mercari as it is on any other app or website, one thing you could do to prevent any issues is make sure you link a credit card instead of a debit card to your account.
Credit cards tend to come with some additional fraud protections, so if anything were to happen, recovering your money may be easier.
Create a strong password
Make sure to create a strong password that others can't guess when you're making your Mercari account. This will keep unwanted eyes out of your account and help protect your personal information.
Is my private information safe with Mercari?
Generally, yes. The company says it encrypts your payment information and takes a number of other precautions to make sure it's protecting your data.
Mercari also hides your address as a buyer until you purchased an item. Only the seller can see the information, and it disappears after they ship your item.
How to sell safely on Mercari
If you're interested in selling on Mercari, there are some things you can do to try and keep yourself safe and your experience positive.
Create accurate listings
The thing that seems to bother users the most is when sellers don't accurately represent the items they are selling. If an item is used ("previously owned"), be sure to list this in the description.
Include photos wherever possible so prospective buyers can see exactly what they're getting before they make a purchase. Accurate photos also serve as proof to refute anyone who tries to make a return.
Don't sell prohibited items
Mercari users are free to sell almost anything, as long as shipping that item is legal within the United States. Trying to sell items on Mercari's list of prohibited items puts you at risk of getting your account shut down and may attract scammers.
Ship on time and update the order
Once someone places an order, you have three days to get it in the mail. Then, after sending it, you must go into your account and report you shipped the item.
If you don't ship the item and three days pass, the buyer can cancel the order and get their money back. If the item is already on the way, there's not much you can do other than hope that the buyer does the right thing.
Communicate with people and use reviews
Because you'll be dealing with people with whom you never have previously, and probably never will, meet in person, do everything you can to make clear you're a real person when selling online.
This means responding promptly to messages but also working to build up your profile with reviews. Ask past buyers to leave you positive reviews. You should also return the favor by leaving reviews for buyers.
How to buy safely on Mercari
Although being a seller comes with risks, buyers are more likely to be on the receiving end of scams. After all, they are giving up their money for a good that they might not receive for a week or more.
Confirm your order when you receive it
One thing Mercari does to facilitate transactions between people is holding onto a buyer's money until the item is delivered. This way, if the seller forgets or does something else wrong, the buyer can easily get their money back.
However, to complete the transaction, you need to confirm you got your item. You have three days to do so after the item registers in the system as delivered, otherwise the payment will go through automatically.
This is why keeping track of your order is important. If the site says the item arrived but it hasn't, you need to report this to Mercari.
Pay attention to reviews
Stick to sellers who have already sold on Mercari and have good reviews. Of course, there could be new users out there without any reviews who are perfectly legitimate. But with so many choices, sticking to a known entity will usually save you from running into trouble.
If it sounds too good to be true, it probably is
You can find deals on Mercari. But if someone is offering a brand new iPhone for $100, you should be skeptical.
The best thing you can do is trust your gut. If you think something might be off, it probably is. Whatever the item is, it's not worth the potential scam.
Be skeptical of product images and descriptions
Be critical of product images and descriptions to try and spot potential scams. For example, if the pictures look like they were downloaded from the internet instead of taken by the seller, there's a chance they're trying to pull a fast one on you.
The same goes for descriptions. If they're broad or exaggerated, this might be a sign someone is working a scam.
Mercari prohibited items
One good way to stay safe on Mercari is to stay away from the app's prohibited items. This will keep you in Mercari's good graces and ward off scammers.
Mercari forbids users from selling anything illegal under federal or state law, such as drugs and stolen or counterfeit goods. But it also has a number of other restrictions against things such as alcohol, tobacco and firearms, as well as non-FDA approved food and food supplements.
Here is a complete list of the items Mercari does not allow users to sell on its platforms.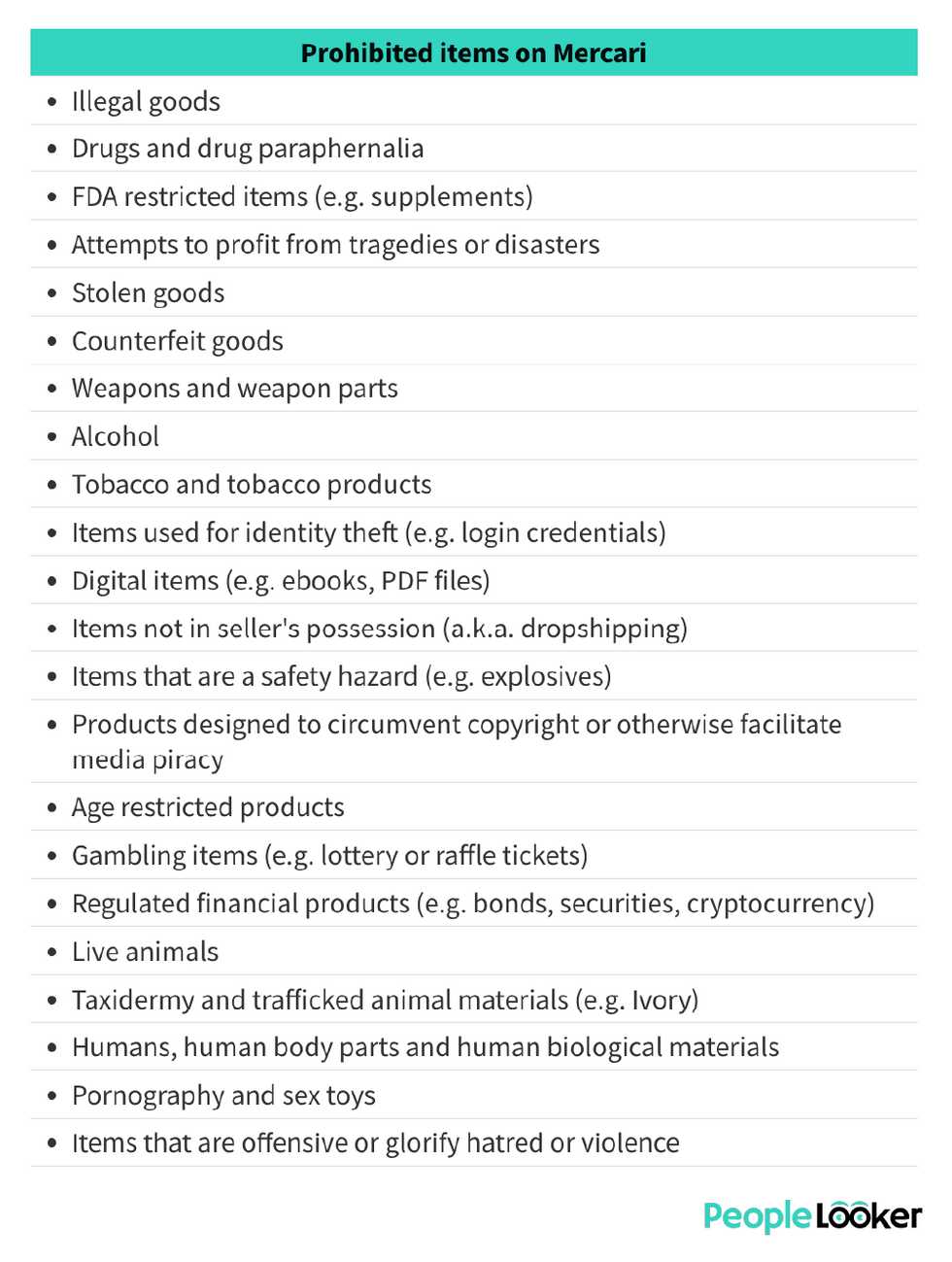 Mercari pros and cons
Knowing some of the pros and cons of Mercari could help you decide if you want to use it.
Pros of Mercari
Some of the main advantages of Mercari include:
Discounted prices: Because you're buying items from other people, they are usually used and can be found for cheaper.
No meetups: Because Mercari facilitates shipping, you can buy and sell online. Items are sent to your door and you don't have to meet anyone in person.
Returns: If you're not satisfied with the item, you can return it within three days of receiving it. Mercari holds your money for this time, so you don't need to worry about tracking down the seller.
Shop all over the country: Unlike other online marketplaces, Mercari allows you to shop all over the country and have items shipped to you. This means more choices!
Inexpensive to use: Mercari charges sellers a flat 10% fee on everything they sell, which is cheaper than other marketplaces. There are some other fees, usually when there are special shipping requirements, but the app will alert you to these.
Cons of Mercari
Although there is a lot to like about Mercari, there are some things that aren't as desirable:
Dishonest people: Because Mercari doesn't regulate who can join the marketplace, it is somewhat powerless against dishonest people trying to make a quick buck. It will remove or flag users who have been reported, but some always seem to sneak through the cracks and force other users to be more diligent.
Customer service: The app isn't exactly known for its customer service. It uses email to communicate with users, which produces a delay and makes getting in touch with someone difficult when there's an issue.
Always an element of surprise: When you're buying on Mercari, you are basing your decision on the description and pictures provided by the seller. But you don't actually know what you're getting until it comes in the mail.