The surge in popularity of online dating over the past two decades has been a double-edged sword. It's so popular that these days, some singles are lost as to how to meet guys without online dating.
Women in particular might be worse off when it comes to the newfound domination of online dating, with potential creeps, lotharios and catfishers hiding behind a seemingly perfect dating profile.
So if you're looking to meet a guy without signing up for a dating site or downloading a dating app, here are some expert-approved tips.
How to meet someone without online dating
Everyone has different approaches to dating, so the best way to meet singles who are not online will be one that feels right to you. Go with whichever of these approaches feel most natural to you—or none of them, if you have something of your own.
Through friends
Meeting someone through your friends can be a fantastic idea, and one that dating apps like Tinder and Hinge have sought at various points to bring into the digital sphere. Here, dating coach Connell Barrett suggested creating something he calls a "You Army," where you turn your friends into your own personal matchmakers.
"Reach out to 10 or so people, tell them that you're ready to 'get back out there,' and that you're open to being fixed up with a great guy," he said. "Include a short description of the kind of man you're looking for. And sweeten the deal a bit—you'll buy dinner or a bottle of Champagne to anyone who fixes you up with someone you click with."
Through family
Similarly, asking your family members to introduce you to the most eligible bachelors they know could be a sound strategy. If you have some siblings or even close cousins around your age, there's a good chance they'll know someone, and the same principles Barrett mentioned regarding meeting friends of friends could apply here.
Neighbors
Dating a neighbor can be tricky, since if things don't go smoothly, you've immediately made your home turf a fraught space. That being said, Barrett noted, "If you're open to dating neighbors, a great way to meet many of them—and to also be neighborly—is to throw a small party."
"If you don't want to entertain at your place, you can organize something in a common area, if you live in an apartment or a town house complex," he suggested. "You can create invitations or fliers and slip them under doors."
Not only will this give you an opportunity to meet attractive singles in your area, if you do hit it off with anyone, "they'll see you as the 'party host,'" Barrett said, "which is an attractive, high-status role."
At church
If you're a person of faith, there's a good chance you're hoping your partner will be too—or at least not entirely ideologically incompatible. One good way to try and ensure this is to turn to your place of worship for help finding a match, Barrett said.
"Most larger churches have some form of a singles ministry, a group of singles who get together once or twice each month to do something fun," he noted. "Think of it as a chance to have a good time and meet new people, some of whom you might be attracted to. It's not speed-dating. It's a chance to unwind at events like bonfires, trivia nights, going to the beach or hiking."
At school
Many of the people whose relationships begin at school actually meet through friends, but it's certainly possible to meet a long-term partner at school without using a middleman. By making a connection with someone you meet in class, in your dorm, or through an extracurricular activity like a club or sports team.
Asking a guy who's caught your attention at school if he'd want to study together or grab a drink or coffee together sometime, is a pretty high-percentage play, particularly given how many people in college are looking to meet a long-term life partner.
At work
Work relationships, while still common, are far less so today than in the past. They're now much more fraught than they used to be, as concerns around workplace harassment have increasingly come to the fore in the #MeToo era.
"If you do decide to date someone at work and you're both equals, let your supervisors know that you've begun a romantic relationship, and that you and the other person won't let it get in the way of your professional duties," Barrett said.
At a bar or restaurant
Particularly if you're a woman, you may expect the dynamic to center on a guy approaching you, but in the new dating climate, that's far from the case. These days, there's nothing stopping you from kicking things off with a crush of your own, according to Barrett.
"The easiest way to meet a guy at a bar or restaurant is to pay him a sincere, specific compliment—say, about his style," he suggested. "It's a way to create a 'meet cute,' and it's classy and not too forward. A big reason most people don't approach strangers is fear of rejection. But a sincere compliment is almost always received well, and usually leads to a friendly conversation. Plus, single men know how hard it is to break the ice with people, so when they're on the receiving end of an approach, they tend to be very flattered."
On social media
Meeting someone on social media is still online—but it's not online dating per se. If you're comfortable on social media but find the idea of a dating app or site unappealing, this might not be a bad approach.
"Much like meeting someone at a bar, a compliment works great," Barrett said when it comes to meeting single guys online. "You could, say, compliment their Instagram post, and do it with specificity. Bonus points if you can establish a commonality while you do it, and finish with a question. Something like, 'Your photo is amazing. I've traveled to Italy as well, and I miss how beautiful it is. What was your favorite site?'"
This kind of friendly interaction is something you can do to try and meet guys who are digital friends of friends, people you follow online who you've never met, or simply other people in your city who are geotagging their photos in your neighborhood, for instance.
Through a matchmaker
Matchmakers may sound like a hokey or old-fashioned approach to romance, but they're increasingly popular in recent years as people exhausted by the technological approach search for something more real.
And with dating app algorithms often sorting people by physical attractiveness first and foremost, and having a vested interest in singles returning for more swiping rather than matching up and settling down, a seasoned matchmaker who knows what makes people click might be the move.
Through your interests
Perhaps the best way to meet a good match offline, according to Barrett, is to "start living your dating-app life in real life."
Meaning, the traits and hobbies that you'd put in a hypothetical dating profile? Make those passions a focal point of your schedule—and reap the benefits.
"Don't just say on your app that you love to travel, or cooking or karaoke," Barrett said. "Book that Vespa tour of Rome, enroll in that cooking class, rock the karaoke mic. If you love dogs and want to meet a fellow dog-lover, volunteer at an animal shelter."
"Passion is attractive to potential partners," he added. "Plus, you'll be meeting people who have a built-in commonality with you, and commonalities are a big part of romantic connection."
Where are people meeting in the real world?
Because dating can be a numbers game to a degree, people often look to congregate wherever they think they'll find the most singles. That explains the popularity of, say, Tinder online—but where are the most popular ways to meet guys without online dating?
As it happens, you're hardly the first person to wonder. Researchers from Stanford University and the University of New Mexico decided to find out, and their results are astounding: 39% of heterosexual couples met online in 2017, up from 22% in 2009. If it feels like everyone's meeting online these days, it's because they by and large are.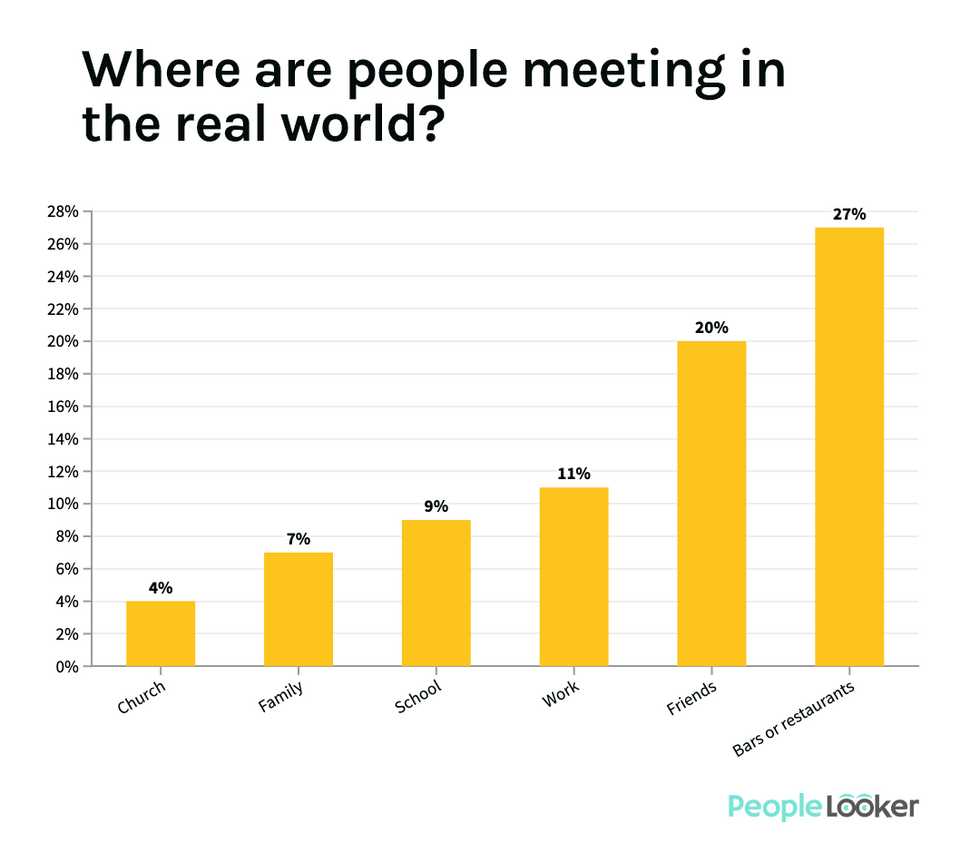 The list features a lot of familiar venues. And the breakout is probably in-line with your expectations:
Church (4%)
Through family (7%)
School (9%)
Work (11%)
Through friends (20%)
Bars or restaurants (27%)
America is a decreasingly pious nation, so it's not surprising to see church trailing the rest. Similarly, dating doesn't feel like a family affair the way it might have in the past—while you might still care if mom and dad approve of your latest squeeze, relying on them to find you a suitor feels a bit archaic.
Work and school are venues of convenience: Attendance is mandatory, and by default in both cases we tend to find ourselves surrounded by people close in age and with similar interests. Even if dating a coworker is ill-advised, some people can't help but take the low-hanging fruit.
Friends and bars/restaurants dominate for their own reasons. Friends are people we trust, so if a friend introduces us to a prospective dating partner, we trust that they made the connection in good faith and with our best interests at heart. On the other hand bars have an institutional advantage—when singles go out for a night on the town, it's assumed that mingling with potential mates is at least on the table, if not the core agenda for the evening.
Staying safe when meeting guys without online dating
One of the benefits of dating offline is that you're often meeting someone who's vouched for in some capacity—a friend of your brother's may be less likely to stand you up than a random match on a dating app, and a co-worker may be less likely to harass you after a bad first date than a random Tinder match.
Of course, just because you're meeting guys without online dating apps doesn't mean they'll be perfect, but knowing people in common can be a deterrent to certain forms of bad behavior that are rampant in modern dating, like ghosting or roaching.
In any case, when you're going with a guy on a date for the first time, it's a good idea to take some appropriate precautions—whether that's trying to look up the guy using an online people search service, letting a friend know who you're going to see and when you expect to be back, both, or using other measures.