If popular gay hookup app Grindr was the inspiration for the success of Tinder in the straight dating world, it's arguable that Bumble, Tinder's primary competitor and the so-called feminist Tinder, gave rise to the new voice on the gay dating scene: the Chappy app.
Bumble set itself apart from Tinder by featuring an aesthetically pleasing look, a focus on more positive user engagements (in Bumble's case, women message men first) and an algorithm that arguably does a better job of matching users who'll find one another attractive.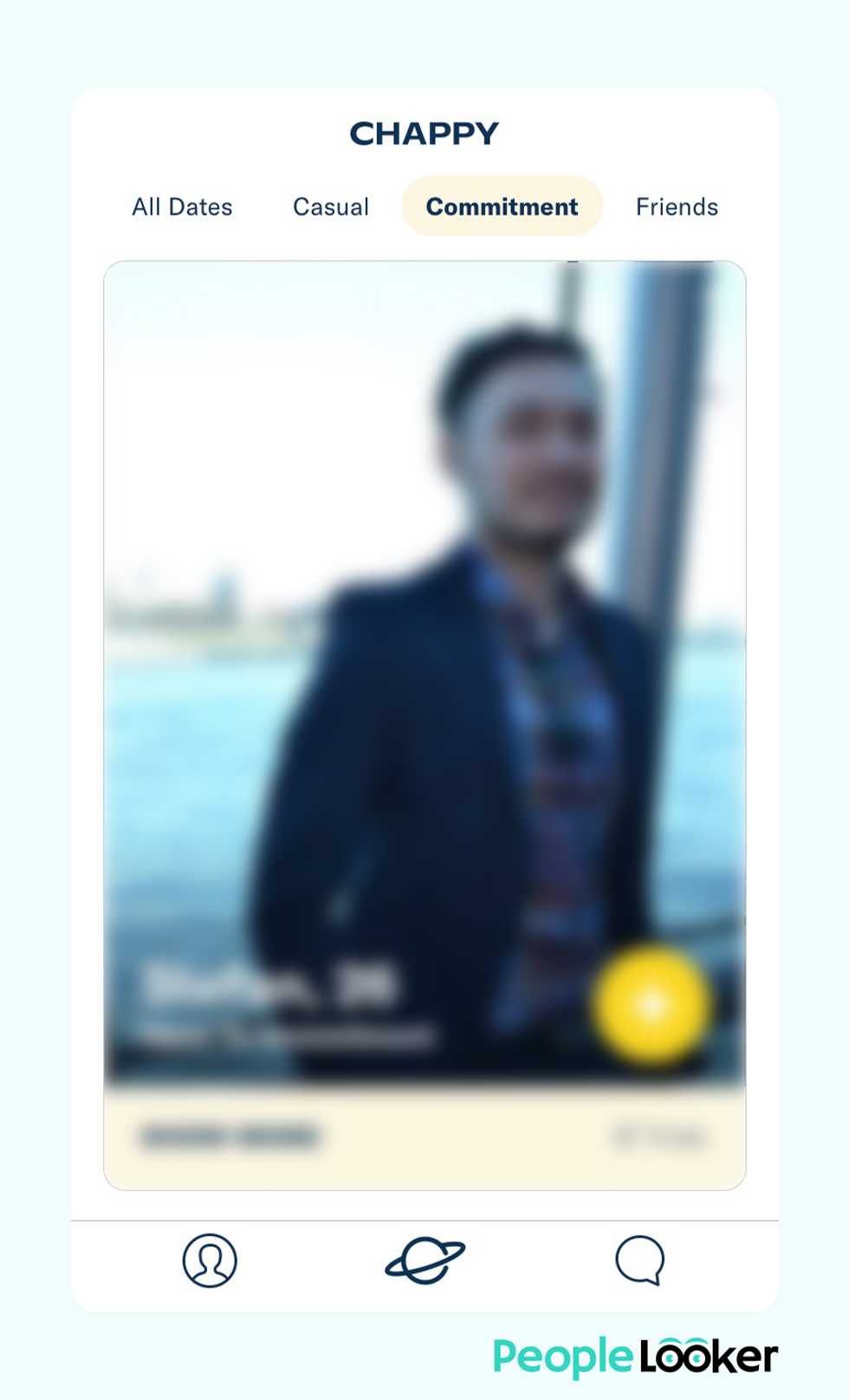 However, the similarities extend past the two apps' gorgeous aesthetics and brand positioning. The fact that Chappy feels like a version of Bumble gay men can truly claim as their own is no accident. Whitney Wolfe-Herd, CEO and founder of Bumble, took an early interest in Chappy and was one of its first investors, reportedly offering Bumble's product expertise to Chappy's founders to help develop the app.
And it's not hard to see the results: Chappy offers an impeccably designed user experience that foregrounds the best of modern online dating tech and coats it all in a visually pleasing exterior you just can't find on its competitors. It might be the best-looking dating app out there, gay or straight.
But does Chappy have any realistic claim to the title of best gay dating app? Is it even one of the best gay apps, period? To get a better sense of what it's really like, we tested it out to let you know what you'll get if you decide to download the Chappy app.
Inside the Chappy app
Chappy's profile setup is pretty basic—it asks for your name, age, gender and permission to access your phone's geolocation, which allows it to show you the other users closest to you.
As with many of the most popular apps out there today—but unlike its big competitor in the gay sphere, Grindr—Chappy relies on a swiping model where people can only message you if you both swipe right on each other to indicate interest. Similar to Grindr's "taps," Chappy users can send each other "sparks" to indicate a little nonverbal flirtatious interest.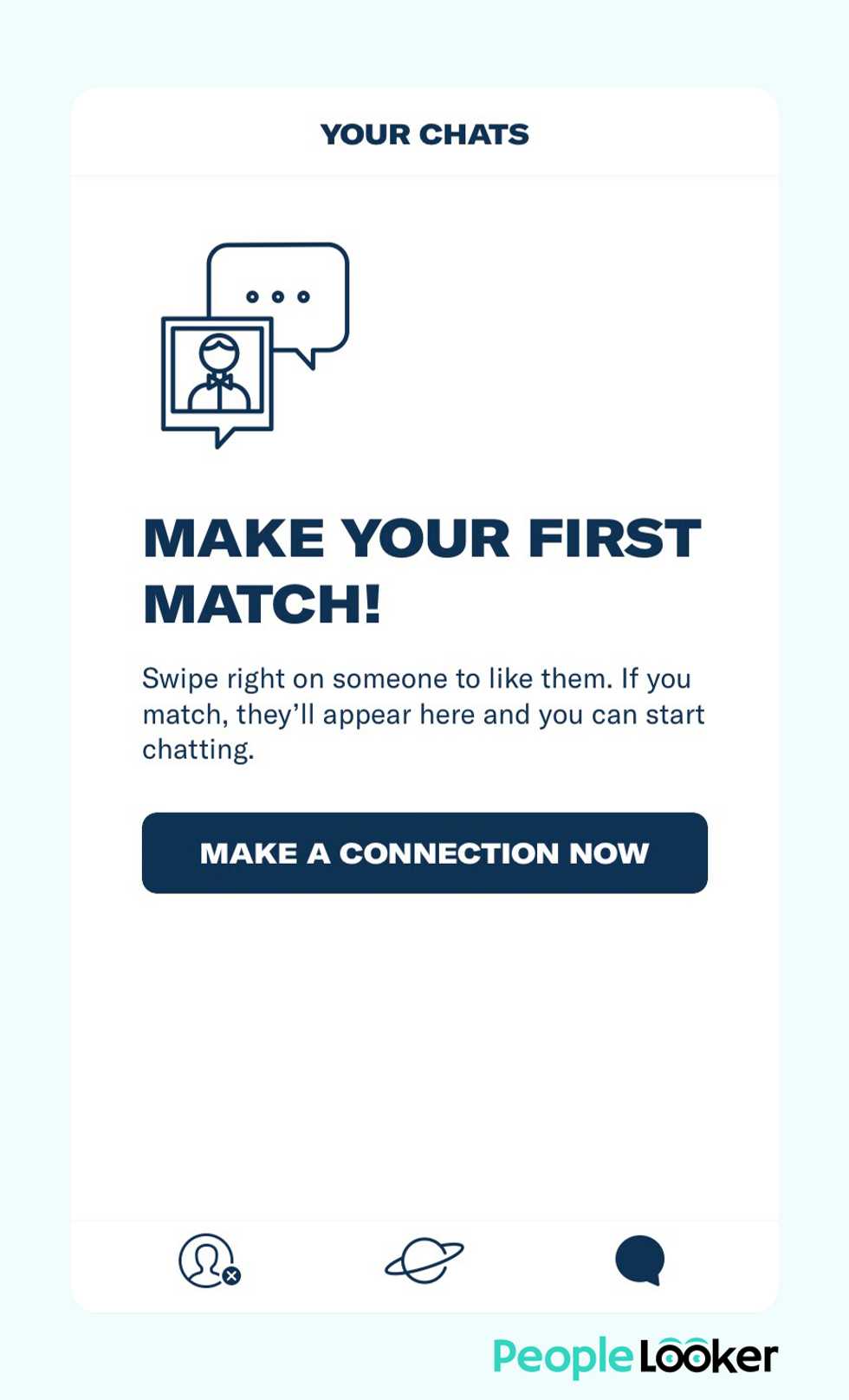 Unlike Bumble, either member of a match can send the first message, and the conversation flows from there. In a bid to ensure user safety when it comes to nudes or other sensitive materials, taking a screenshot of a photo sent in a private conversation in Chappy will alert the other person—a good tactic intended to cut down on people leaking your nudes. (That being said, screenshotting profile pictures in order to look them up won't notify the other person.)
Compared to more established apps—Chappy's only been around since 2017—its user base is relatively small, with a reported 650,000 users in 2018. However, by now that number is surely higher—and testing suggests there are plenty of users in major metropolitan centers.
What makes the Chappy app different from other gay dating apps?
Chappy's big draw is that it's looking to move away from the "hookup" aspect that's central to many modern gay dating apps for men—so if you've found yourself exhausted by the parade of guys looking for a one-night thing (or less) on Grindr, Chappy might be the app that gives you a shot at something a little longer-lasting.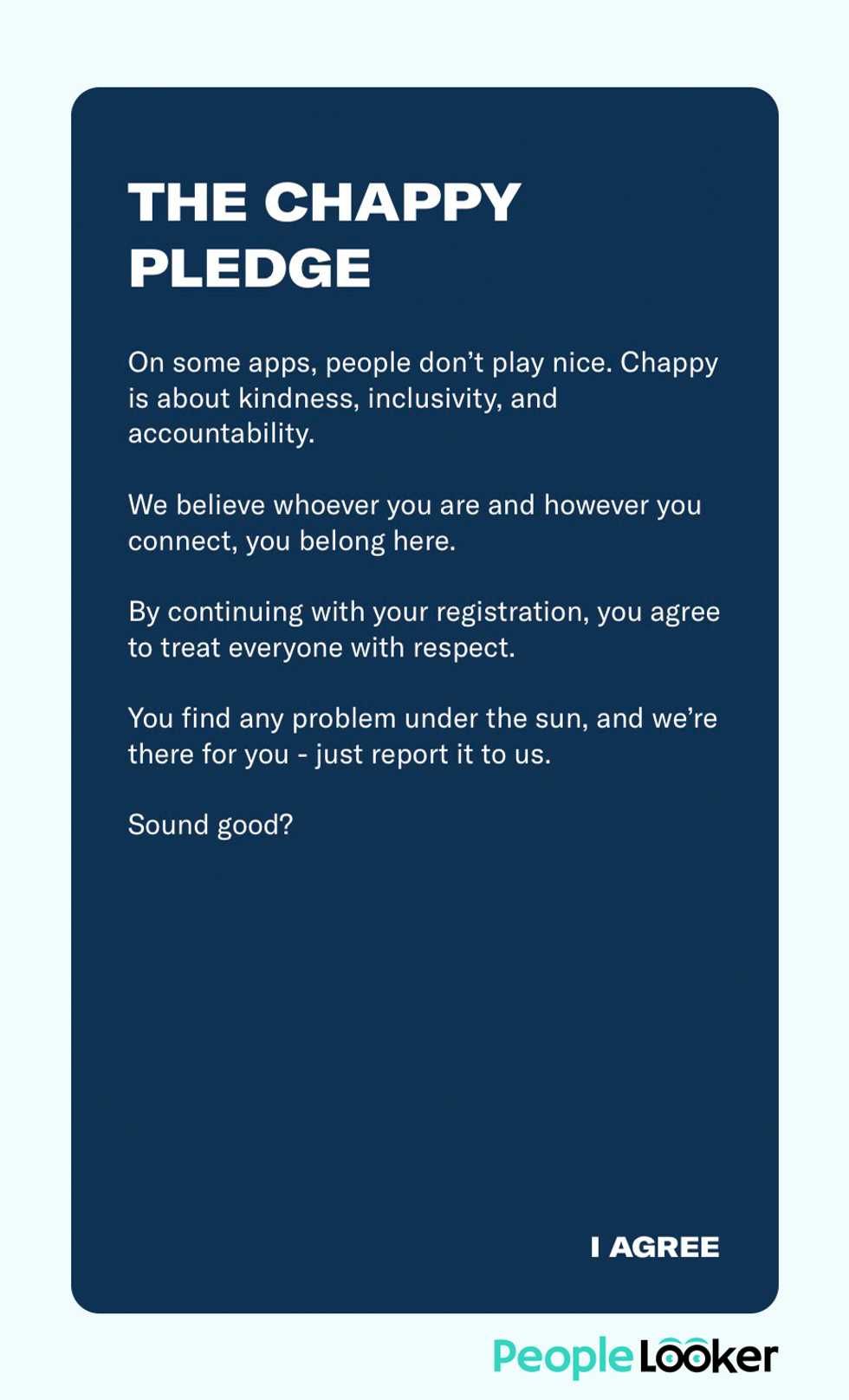 How do they do that? Well, for starters, traits like body type, height and other more superficial attraction-style aspects are absent from the app completely—as compared to Grindr, where they're an inherent part of the profile and search experience.
The Chappy profile information is intentionally pared down. It displays your name and age; asks you to add your work, education and short bio; and offers to link to your Instagram. Until you upload a face pic—and it can tell which pictures are face pics and which aren't—you won't have access to the app's dating functionality.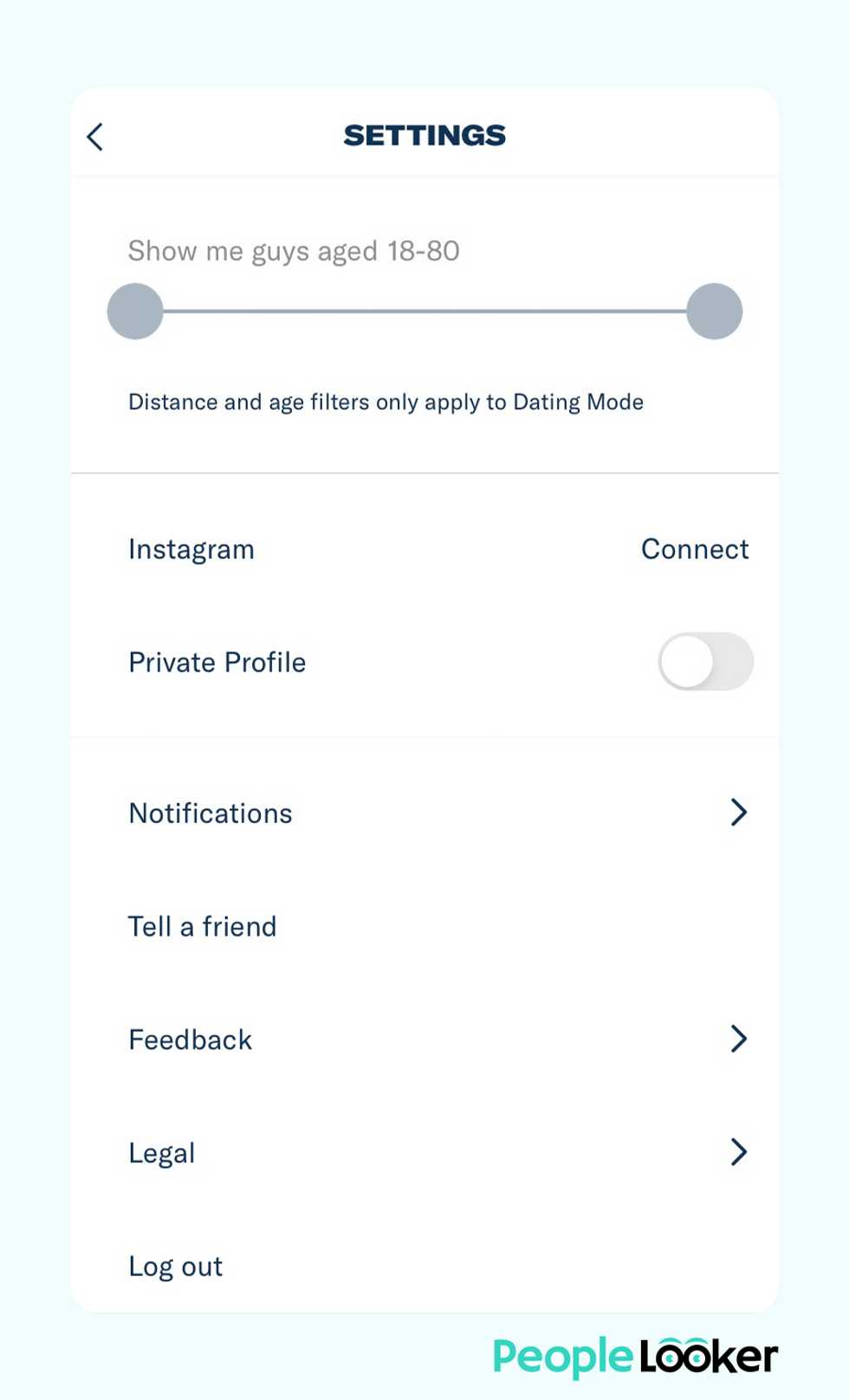 On top of that, "photos of your rocket"—its term for explicit images—are banned, as well as photos that don't contain your face, meaning the Grindr aesthetic of topless torso pics is completely absent here.
As well, the dating functionality allows you to set what you're looking for as either "Casual," "Commitment" or "All Dates" (a combination of both)—and even a "Just Friends" mode, for people who are looking for platonic friendships.
Chappy claims this "real connection"-first approach is unique in the gay dating app space, but the reviews in the Apple App Store aren't so sure. One claims, "It's the same thing as Grindr [with] different packaging;" another says "This app has the same users as Grindr and all the other gay apps," a strain of complaint that comes up a few times in other users' reviews.
What information does the Chappy app collect?
While prior iterations of Chappy required you to connect your Facebook account to sign up, as Tinder originally did, that's no longer the case.
Today, the app's primary focus is on you uploading a picture of your face—again, it won't let you interact with the app's functions in any real way until you do. The signup process also asks for your first name, age and gender.
Chappy notes that it will collect location data about your phone in order to show you other users close to you, but you can turn off this function if you're not comfortable with it. Instead of your precise location, the app will then attempt to use your IP address or other, less accurate methods of determining which users are close to you.
As with some other dating apps, you can link your Instagram account to your Chappy account to show other users more selfies and/or what your photographic sensibilities are like, but the app won't show your username.
The Chappy privacy policy, accessible from the app's settings page, is surprisingly readable—not drowning in legalese, and not horribly long. It sets out that the company does its best to use your data in a way that's beneficial to you and to the app's general user experience, and it falls within applicable legal limits.
As well, if you delete the app (and haven't been kicked off), Chappy will delete the information it has on you within a year.
What does Chappy cost?
This may sound surprising, but Chappy is actually totally free—not only free to download, but unlike the paid models used by Tinder and other similar apps, you can't spend any money on in-app purchases in order to boost your profile or unlock certain features.
While that's likely to change at some point —Tinder, Grindr and Bumble were unmonetized in the early going, too—for the time being, you can take advantage of Chappy being totally free.
Is Chappy safe?
As with any dating app, Chappy can't guarantee it's 100% free of people who might harm you, either emotionally, physically or financially.
However, compared to an app like Grindr, Chappy might be safer in some notable ways. For one, insisting on using face photos means you at least know what the people you're talking to look like from the shoulders up; for two, the focus on friendship and commitment over hookups means users might be more likely to take things slow rather than rush into an unsafe situation.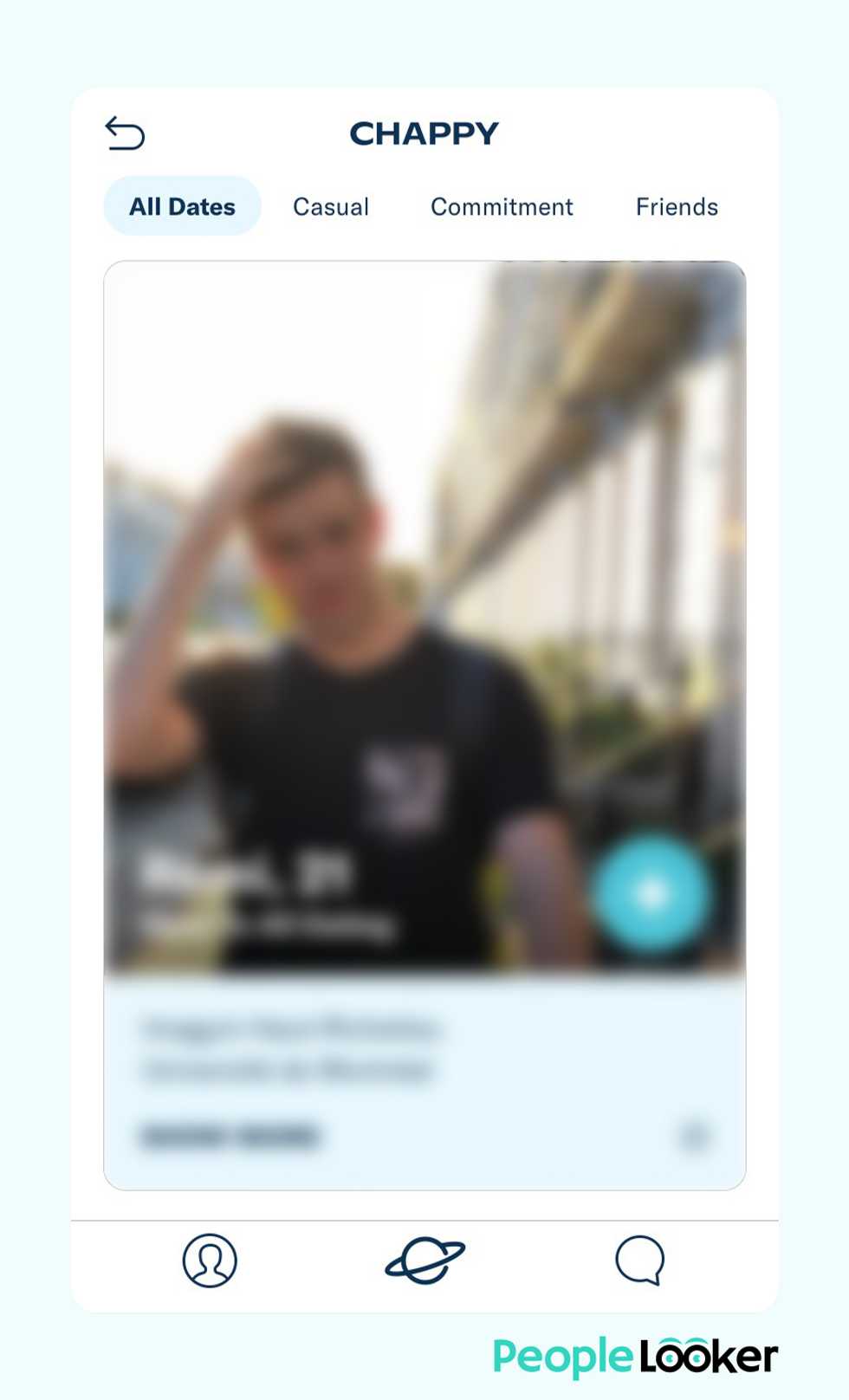 Still, the potential for online dating scams exists on basically every app out there. If you're meeting up with a stranger for the first time, whether you met them on Chappy or another app, you should strongly consider meeting in a public place over going to meet them at their home (or having them over to yours).
As well, letting your friends or family know you're out on a date—so they'll realize sooner if you aren't responding—is a good backup plan.
Finally, if you're really insistent on knowing whether the person you're talking to is who they say they are, using some online tools—like Google's reverse image search or online people search services—may help give you a better sense of who you're dealing with.
Conclusion
Right now, Chappy doesn't seem to have the user base or the cachet of Grindr—or even Scruff. So if your first requirement from a dating app is seeing tons and tons of guys, it might not be your best shot.
If you're looking for gay hookups first and foremost, Grindr's still the place to go, since Chappy's focus on face pics and committed relationships might deter hookup-minded people somewhat.
However, it's a well-designed, easy-to-use app with an inspiring vision of what dating could be, and it's totally free to download and use—so if you're on the fence, it's probably worth giving a shot. At the very least, you could use it to make some new friends!