As more and more of our collective time is spent in front of a screen, be it a computer, tablet or phone, it makes sense to want to curate a pleasurable user experience. So if you're receiving annoying, harassing or otherwise unwanted text messages, you're probably wondering how to block someone from texting you.
Aside from a steady stream of annoying pings that steal your attention away from whatever you're doing and onto your phone, unwanted text messages also count toward your monthly text message limit (if you have one). That can quickly become irritating and costly.
So whether it's an ex who hasn't quite gotten the message, or a 20-person group text about Thursday night happy hour plans, or even the overeager carpet cleaners down the street, sometimes it becomes necessary to block a text.
Why would you block a text?
There are several reasons why you might want to block a text. But it all comes down to harassment. No one wants to be the target of harassment, especially on their private phone. While there aren't sweeping anti-harassment laws against individuals contacting you, the Telephone Consumer Protection Act (TCPA) does afford some protection against spammers and robocalls.
The TCPA allows service carriers to offer blocking abilities, prohibits companies from using automatic dialers to make unwanted calls or texts and gives you the right to text "STOP" if you want to stop receiving texts from someone.
Donald Petersen, a TCPA lawyer with the Law Office of Donald E. Petersen said, "Even if the cellphone user gave the sender permission to text them, the user can revoke the consent by texting 'STOP.' [Doing so] is probably the most effective method, and the courts have recognized it as a reasonable means for the cellphone user to prevent unwanted texts." When it works, this method is pretty simple.
If it's an individual who's contacting you, it could be considered harassment, and you may need to get the police involved. While the definition of harassment—repeated, unwanted contact—is broad, any contact that threatens your health or safety, or that of your loved ones, could be grounds for a criminal case. Harassment laws vary by state, so if you're being harassed via text messages, contact your local police department to get a better sense of how to handle it.
Either way, it's certainly better to avoid these types of messages in the first place. That's why we'll take you through how to block someone from texting you directly on your device, through your mobile carrier or using third-party blocking apps.
Before we get into those steps, we'll address two of the most common questions cellphone users have when wondering how to block a texter.
Can you block texts but not calls? Oddly, no. Though it seems this technology would be totally possible, it's not, on either Android devices or the iPhone. At the time of this writing, if you block text messages from someone, you won't be able to receive regular or FaceTime calls from that person.
One potential workaround for this issue is to put the contact on Do Not Disturb mode instead of blocking them. This will prevent notifications from popping up when they call or text, but it doesn't prevent them from calling at all, like blocking them would.
Can you text someone you've blocked? Yes. Even though you've blocked the number from texting your phone, you can still send a text to that person. However, you won't see the person's response to the text unless you unblock them.
How to block someone from texting you on iPhone
Follow these simple steps to ensure you never have to deal with another unwanted text from someone who is an existing contact on an iPhone using iOS 13.3:
Go to Settings > Phone > Blocked Contacts.
This screen will display all of your currently blocked contacts (if any). Tap Add New to bring up a list of all stored contacts.
Tap the name of the contact you'd like to block.
Once you've done this, you'll be taken back to the window that displays all of your blocked contacts. The contact you just blocked will now be added to the bottom of this list of blocked contacts.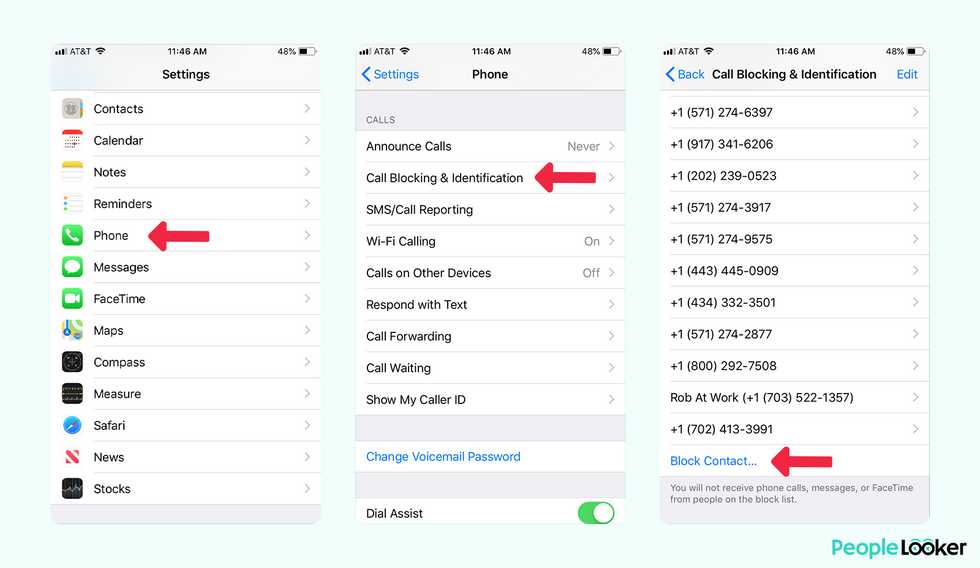 Getting tons of messages from a rando who's not already in your phone? A reverse phone search may help you determine who it is and if you want to take their texts or calls. If you decide you don't, here's how to handle it:
Open the message thread with the contact you'd like to block.
Tap their phone number at the top center of the screen.
You'll see three options that pop up: Audio, Facetime and Info.
Tap the "i" for Info.
On the next screen, tap the arrow pointing to the right on the top right-hand side of the screen.
Tap "Block this Caller" on the bottom of the next screen.
A window will pop up that says, "You will not receive phone calls, messages or FaceTime from people on the block list."
Tap "Block Contact."
The bottom row should change to "Unblock this Caller" if you've successfully blocked the person.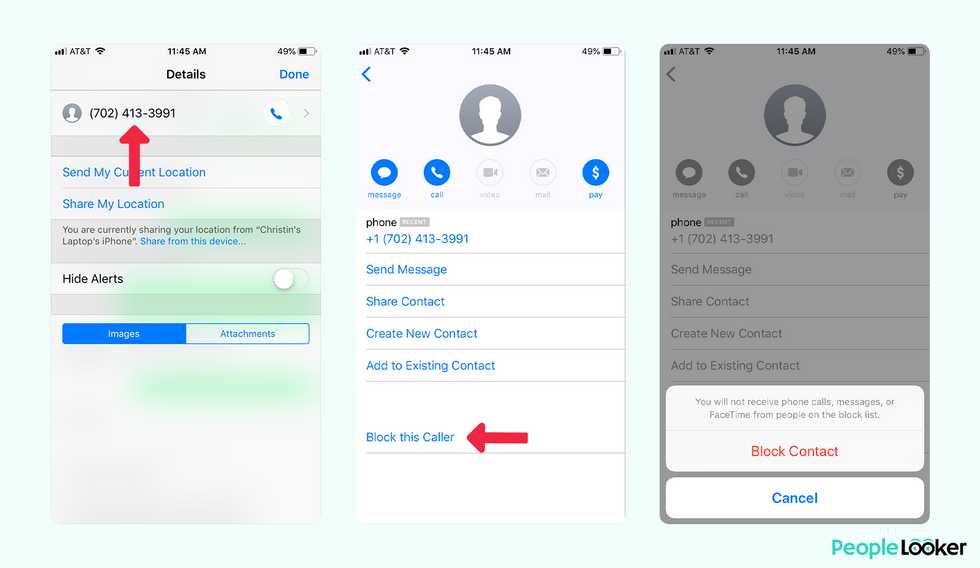 How to block someone from texting you on Android
It's just as simple to block text messages on an Android device. However, different phones may have slightly different methods for how to block someone from texting you. Here's a general guide you can use for reference:
Open the message thread with the contact you'd like to block.
Select the conversation and tap using a long hold.
Select the circle with a line through it at the top right-hand side of the screen.
A box will pop up that allows you to block the number and even report it as spam. To report it, click the "Report Spam" button. Otherwise, simply tap OK.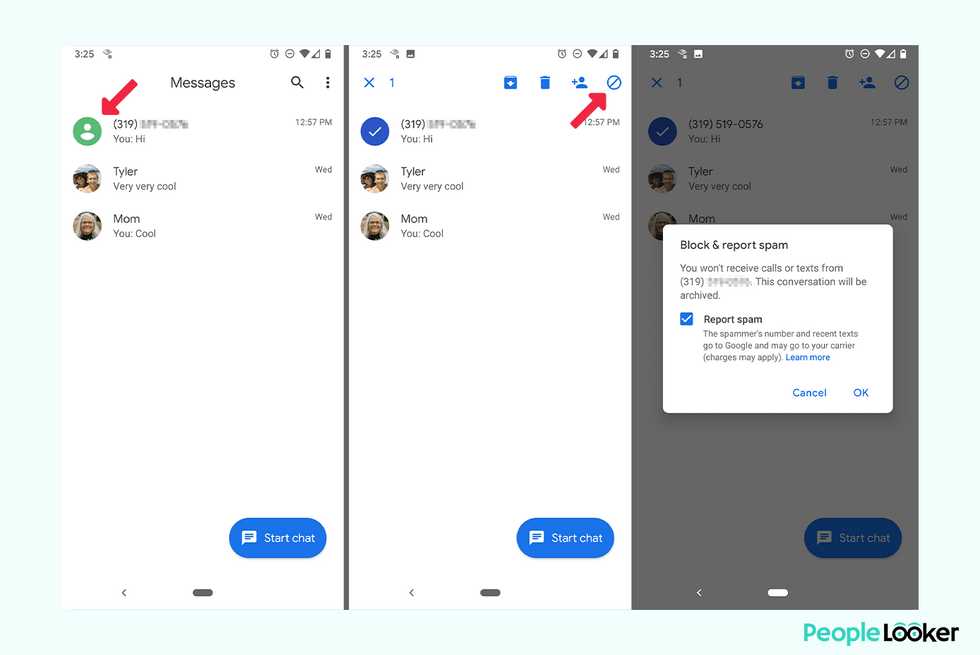 Wondering how to block text messages through your cellphone service provider? Though they each have slightly different steps, it's generally as simple as logging in to your account (or opening an app) and following the instructions from there. Here are the websites for the major American carriers:
T-Mobile, or open the My T-Mobile app.
Verizon, or open the Verizon Smart Family app.
AT&T: Open the AT&T Call Protect app.
Third-party apps that block texts
Finally, another option you have if you're wondering how to block texts is to use one of the many third-party apps that are available for either Android or iPhone. Our favorite text blocker for the iPhone is the top-rated Hiya app, which features real-time call and text identification to help you avoid answering spam messages. It also offers advanced features for avoiding tricks like neighbor spoofing. And for Android? SMS Blocker seems to be a solid choice, with its simple interface, effective spam-blocking performance and the ability to block texts by keyword.
Conclusion
There are many ways to manage communications on your smartphone, both for calling and texting. Basic features included on your device along with ever-evolving technologies available from third-party blocking apps definitely make it possible to curate a largely spam-free digital landscape. Just be sure to think it through before blocking an individual, since you're likely to hurt feelings if they ever find out.