Facebook is without a doubt the most popular and prolific social media platform in the world. The statistics don't lie: More than 1.5 billion users log on to Facebook every day. And seemingly every day, negative news reports continue to swirl about Facebook's careless privacy practices, use of targeted ads and its addictive platform that turns into more of a time suck than a benefit. So perhaps it's time to look into how to delete your Facebook account, just like the hashtag #deletefacebook encourages us to do.
A quick Reddit search shows you're far from alone if you've become a bit disenchanted. Reddit user Thudly shares the story that ultimately led them to delete Facebook:
I got an email on my phone one day saying, "The image you posted has been deleted for violating Facebook's terms of use. Pornography is not acceptable. Your access to Facebook has been blocked for 24 hours…"
I had all kinds of questions. I wasn't even on Facebook at the time. Who posted a picture? What was the picture? Can you at least tell me the [details]? Was I hacked? What happened?
The only reply I got was a copy-and-pasted reply referring me to the terms of service. This on top of everything else finally made me quit.
The average Facebook user has about 338 friends, which is a lot of people to cut online ties with all at once. After all, you may still want to check in on the cute antics of your second cousin's 2-year-old or your boss from three jobs ago. But as many people have realized, the benefits may outweigh the costs if you're wondering how to get off Facebook. Learn how to delete Facebook and whether an alternative is a better fit for you.
Why would you want to delete Facebook?
Facebook has shown to be addictive. A study originally reported by LiveScience found that the brains of people who report compulsive urges to use the social-networking site show some brain patterns similar to those found in drug addicts.
That alarming news aside, it's no secret that Facebook has been at the helm of several privacy issues in recent years, from the relatively mundane, like its sketchy use of personal data, to the shocking, like accusations that it was used to influence elections.
In an exposé for The Washington Post, Facebook's head of global elections integrity ops indicated that, "The real problem is that Facebook profits partly by amplifying lies and selling dangerous targeting tools." Ad campaigns and targeted ads can have a huge impact on our subconscious mind, and the troubling thing is, that's exactly what they're counting on.
Although most social media platforms use ads to generate revenue, Facebook seems to take it a (big) step further, quietly collecting reams of personal data about each and every user. Then, they use this data to make assumptions about your likes and preferences, and allow third-party companies to market to you through the Facebook platform.
When it comes to Facebook, the platform isn't the product; your personal data is. The company can offer Facebook as a free service because it's pulling in megaprofits from advertising dollars. And considering how powerful marketing tactics can be on your subconscious mind, this could reasonably be viewed as a bad thing for users.
Not convinced? A quick glance at your profile's ad preferences page is a stark reminder that the company knows a heck of a lot more about you than you could ever imagine. Here's an example from an article written for Business Insider: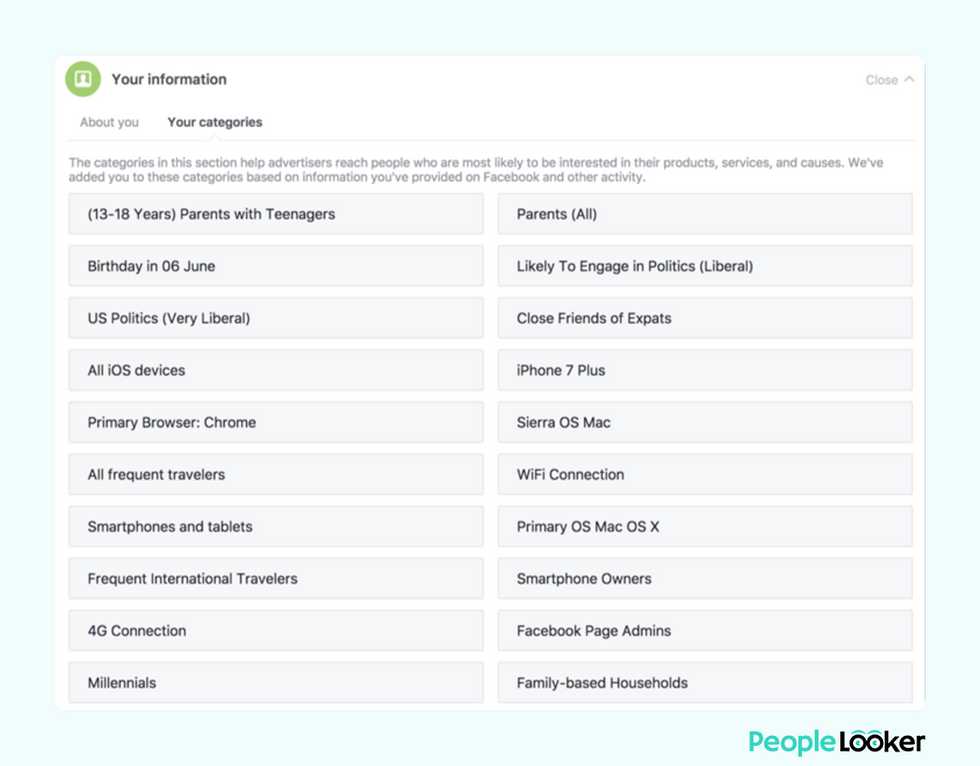 Plenty of people would see this as an invasion of privacy, for the simple reason that most Facebook users probably have no idea any of this is going on. But that's beginning to change. And if you'd like to join the thousands of users kicking Facebook to the curb each day, keep reading.
What to do before you delete Facebook
If you've made the decision to leave the platform, the good news is that it's easier than it used to be. The less-good news, though, is that doing it properly requires more prep work than the actual deletion. In the long run, though, you'll be glad you took the necessary steps to preserve your data. Before you give Facebook one final heave-ho, be sure to do the following.
Check your apps and games. Many apps and games use your Facebook account as a login. Some of the most common ones are Instagram, Pinterest and WhatsApp. It's tough to keep track of everything you've got linked to Facebook, so luckily, they handle that for you.
From your home page, click the drop-down arrow on the upper right-hand side of the screen and navigate to your Settings menu. Toward the bottom of the list on the left, you'll see "Apps and Websites" and "Instant Games." Click on each and you'll see a list of the apps, websites and games that may suffer if you delete Facebook.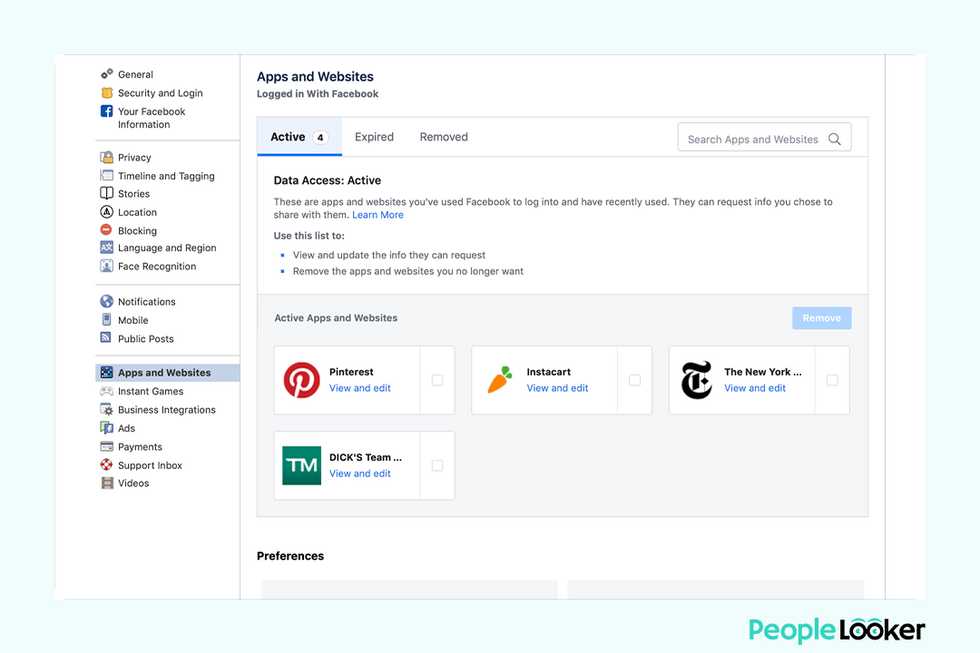 Download your data. This feature seems to incite controversy at every turn. Many criticize it for being seriously lacking, pointing out the (many) data points that Facebook maintains ownership of even after you delete your Facebook account. Here's how to download your data:
Click the drop-down arrow on the upper right-hand side of the screen and navigate to your Settings menu.
Click "Your Facebook Information."
Select "View" to the right of "Download Your Information."
You'll be taken to a screen that allows you to select which data you'd like to download and in what format.
Make your choices and select "Create File."
How to permanently delete Facebook
And finally, if you're wondering how to permanently delete your Facebook account, it can be done with just a few clicks. Here's the step-by-step guide for how to delete Facebook:
Click the drop-down arrow on the upper right-hand side of the screen and navigate to your Settings menu.
Click "Your Facebook Information."
From the menu, choose "View" on the Deactivation and Deletion row.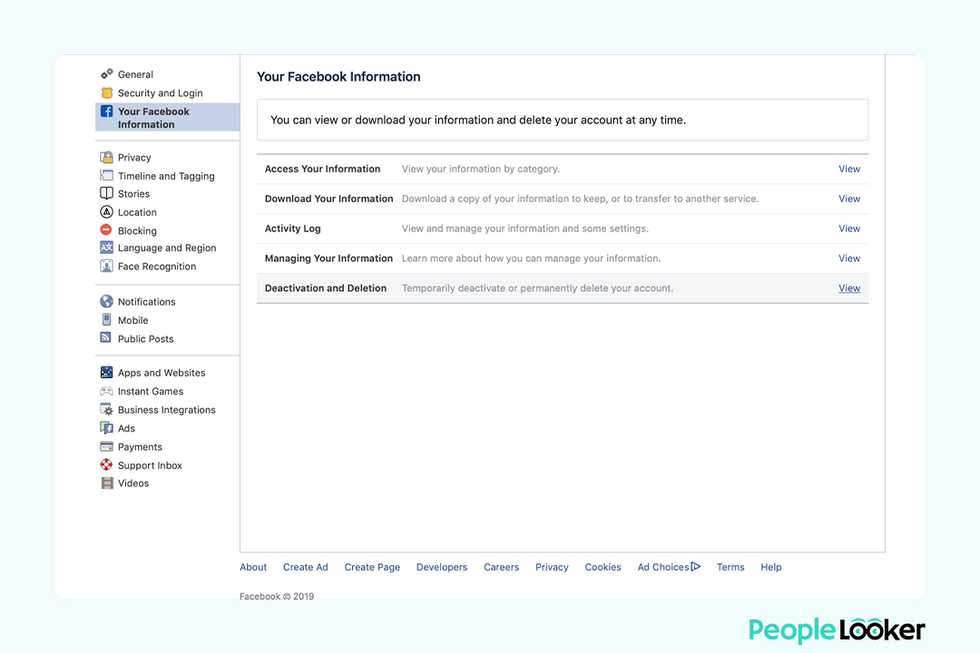 Select "Permanently Delete Facebook" and click "Continue to Account Deletion."
Here, you'll be taken to a screen that prompts you to consider whether you'd like to keep the Messenger service, and you'll have one final chance to download your data.
Select "Permanently Delete Account" if you really want to go through with it.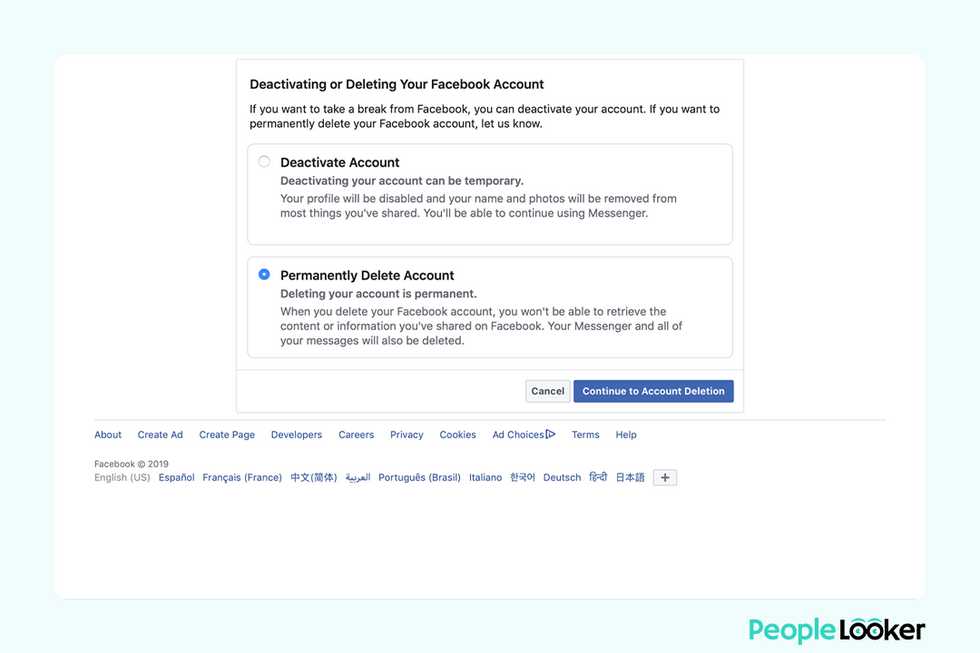 And you're free! It's that simple. Unfortunately, the hard part is figuring out how to unfurl yourself from Facebook's clutches if you use apps such as Instagram or WhatsApp. While both function independently of Facebook, keep in mind these two platforms are still owned by Facebook. So, anything you post on them still ends up in the company's hands.
If you're truly concerned about your online privacy, it's a good idea to run a people search on yourself to possibly get a sense for what else is out there. Then, you can start hacking away at it a little bit at a time.
Alternatives to deleting Facebook
Not sure you're fully ready to delete Facebook altogether? You've got options. You can choose to make your Facebook profile fully private, which allows you to curate who's able to view your information, or you can deactivate your Facebook account.
Is there a difference between deactivating Facebook and deleting it? Yes! Deactivating is an intermediate step toward deletion. It allows you to leave the platform while your profile, photos and any posts you've made are saved but not searchable. If you log in to Facebook anytime after deactivating it, your profile will be immediately restored.
How to deactivate Facebook
In a few simple steps, here's how to get off Facebook by deactivating:
Click the drop-down arrow at the top right-hand side of the screen and navigate to your Settings menu.
Click "Your Facebook Information."
From the menu, choose "View" on the "Deactivation and Deletion" row.
Click the circle next to "Deactivate Account," then click "Continue to Account Deactivation."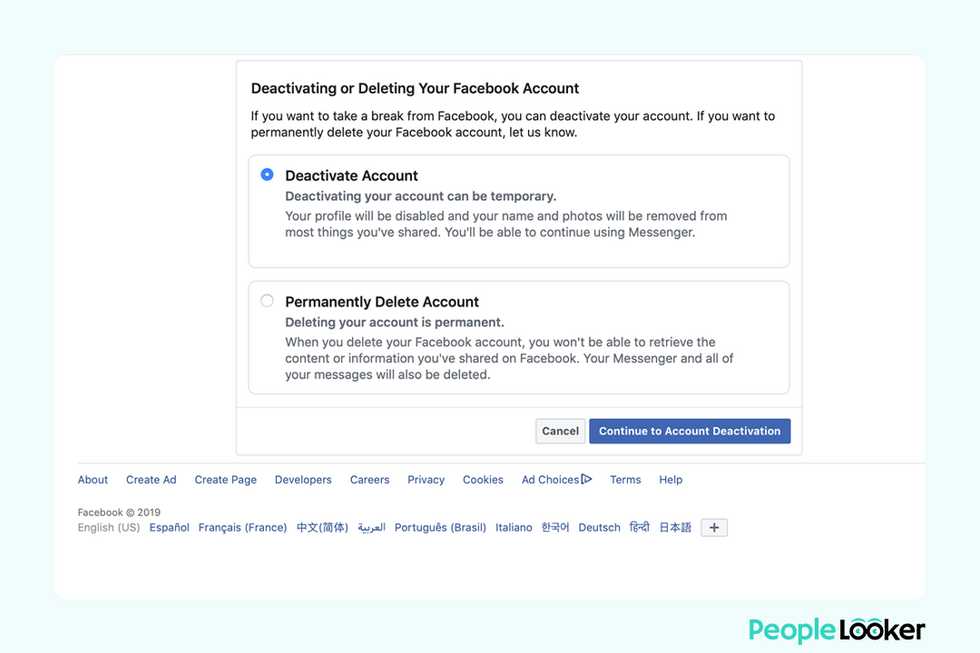 From there, you'll be asked to enter your password.
You'll be asked to specify why you're deactivating, choose whether to opt out of future emails from Facebook and choose whether you'll continue using Messenger.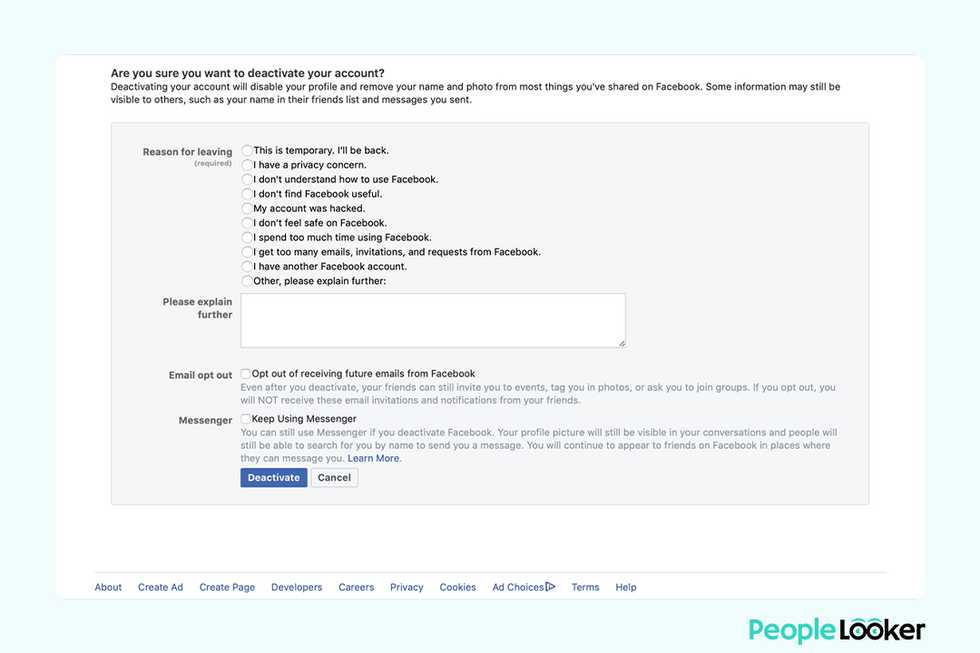 Regardless of whether you choose to delete Facebook, deactivate and take a break for a bit, or simply amp up the privacy settings on your profile, it's a good idea to step away every now and then and enjoy your real life. And hopefully, you won't find yourself in a situation like the Reddit user who was falsely accused of posting porn on Facebook.