If it can be said that we are a nation divided by many things, then Facebook could be counted among them. Arguably the most popular social media platform of all time, Facebook continues to put up astonishing user numbers despite their spate of privacy scandals in recent years.
Consider this: On any given day, Facebook adds more than 500,000 profiles, which equates to 1.49 billion daily active users. Wondering how to make Facebook private when confronted with those numbers is entirely reasonable.
And for Facebook, privacy is definitely a concern. High-profile security issues and the resulting storm of news headlines have exposed just how public your information truly is. Consider the 2018 breach, which reportedly affected more than 50 million users. Given the risks, all but the most carefree users would be right to question how much they should post on Facebook.
Pros and cons of making Facebook private
That said, the platform can be incredibly alluring—and incredibly difficult to walk away from. Many of Facebook's features have allowed it to become embedded into the very fabric of our lives—from keeping up with Aunt Sally's brood of chihuahuas to signing into a multitude of other apps like Tinder, Spotify and Instagram through open authorization.
A happy medium between being an open book and deleting Facebook altogether is making your Facebook account private. Here, you'll learn how to make your Facebook private, with helpful screenshots to walk you through the various privacy controls. First, some pros and cons to consider before you make Facebook private.
Pros of making Facebook private
A less cluttered feed. With a private account, you're less likely to get targeted ads and posts on your feed. Instead, you'll only see actual posts by people on your friends list.
A more curated experience. Facebook has various privacy settings that allow you to control what others know about you, including your location, birthday and relationship status. Keep in mind that Facebook itself still knows (and owns) all of this information, regardless of your profile status.
Greater security for photos you share. When you have a fully private profile, only those on your friends list will be able to view the photos you share.
Cons of making Facebook private
Fewer social features. Having a private profile flies in the face of the very nature of social networking. If you make Facebook private, you may miss out on functionality like friend requests, seeing relevant/interesting information from friends of friends, and much more.
You can still be screencapped. Unlike Snapchat, Facebook doesn't alert you if someone takes a screenshot, either of your profile picture (admittedly creepy) or of something you post. Despite enhanced privacy settings on your profile, this is still a concern.
You can still be found in a reverse username search. By default, everything in your profile is public until and unless you take steps to make it private. And even then, your profile photo and username are still searchable on the Google search engine. This makes it possible to perform a reverse username search to obtain information about you.
Your information is still vulnerable if one of your friends gets hacked. Greg Scott, Senior Technical Account Manager at Red Hat and author of the book, Bullseye Breach: Anatomy of an Electronic Break-in, brings up a good point:
"Let's assume Facebook honors all my privacy settings and keeps its word about keeping my private content private. I'm still sharing content with other people—what happens if somebody compromises my friends' devices and gains access to their Facebook feed? If I post something sensitive and an attacker finds it on a friend's device, I'm vulnerable to the consequences no matter what privacy settings I use."
False sense of security. One of the biggest drawbacks of making Facebook private is the false sense of security this can create. Remember, regardless of the privacy settings you choose for your profile, Facebook still owns (and records!) everything.

Every post you've ever made, every like you've ever liked, every quiz you've ever taken, every photo of your smiling kids—it all exists on one of Facebook's massive servers, and there it'll stay. Yes, even if you delete your account entirely. It's wise to be vigilant about what you post on Facebook, regardless of your privacy settings.
How to make your Facebook private
Scary, huh? You may not be able to do anything you can do about that. Instead, focus on what you can control: how to make your Facebook profile private.
Profile privacy
The first thing you'll probably want to do if you're wondering how to make your Facebook private is to stop sharing personal demographics like your date of birth, relationship status and current location.
When you created your Facebook profile, you were asked questions about this information and much more, like your alma mater, places you've worked and your hometown.
For the greatest level of privacy, simply delete all fields that contain personal information. Or, choose what you'd like to share and what you want to keep private. In order to make Facebook private when it comes to demographics, use the following directions:
Go into your Facebook profile.

Click Edit Profile under your name on the upper left-hand side of the screen.

Scroll all the way down and click on Edit Your About Info, shown below.

Then, simply go through each category and edit what you'd like to have included. In the profile shown below, the user has chosen to only include their birthday in this entire section.
Privacy settings on photos
A logical next step is to adjust the privacy settings on the photos you share, so you're not inadvertently sharing them with strangers. Luckily, Facebook makes this simple. Start by navigating to your profile and clicking on the Photos tab. There, you'll see three different types of photos: Photos of You, Your Photos and Albums:
Photos of You. These are the photos you're tagged in. If you're wondering how to make photos private on Facebook, don't forget about these! Simply click the Edit button and select Hide from Page, as shown below.

Your photos. These are the pictures you've posted to Facebook over the years. You can delete them one at a time or organize them into albums and manage the privacy on each album. To delete one at a time, simply click the edit button on the image you want to delete and scroll down to Delete this Photo.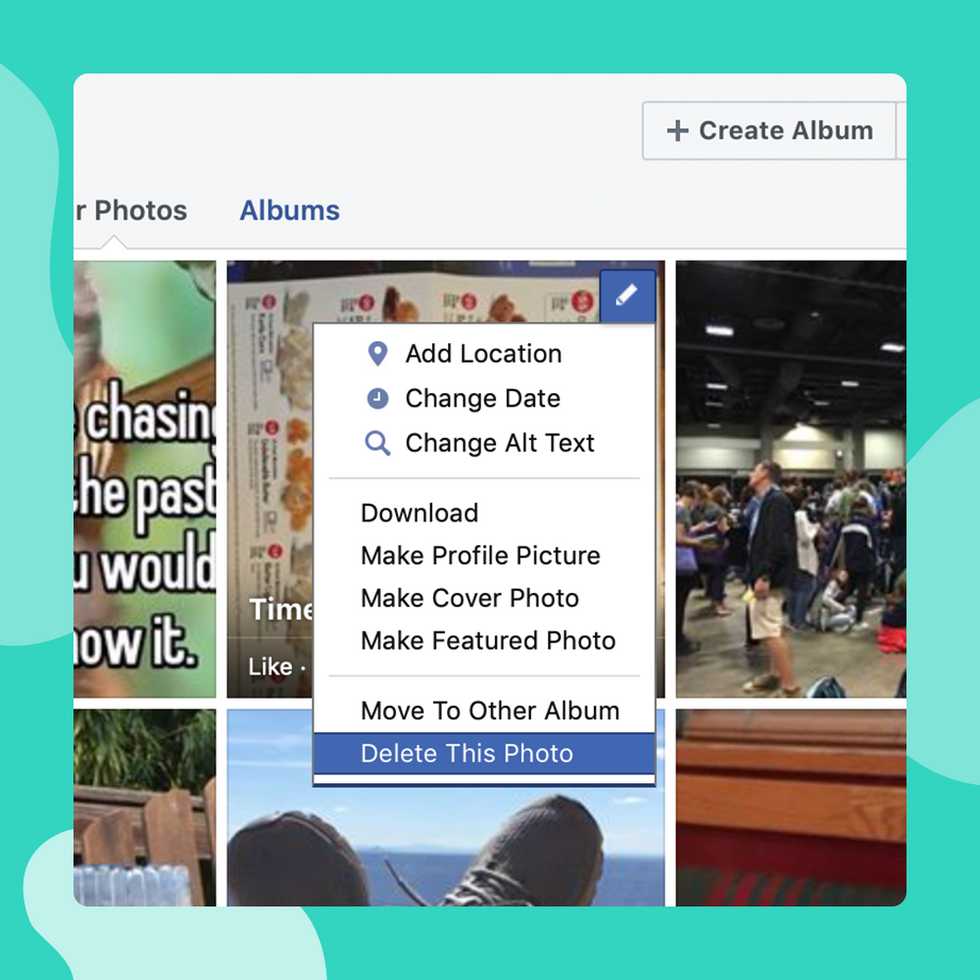 Privacy settings on friends
One thing you may not have thought about when considering how to make Facebook private is your friends list. It may seem odd at first to make your friends list private, but according to Facebook's own verbiage, "Remember, your friends control who can see their friendships on their own Timelines. If people can see your friendship on another timeline, they'll be able to see it in News Feed, search and other places on Facebook."
Here's how to enhance the privacy settings on your friends list:
Navigate to your profile page and click on the Friends tab.
Click on the pencil icon, which is the Manage key.
Click Edit Privacy.
You'll see a pop-up box that allows you to change the privacy settings on both who can see your friends list and who can see the people, pages and lists you follow.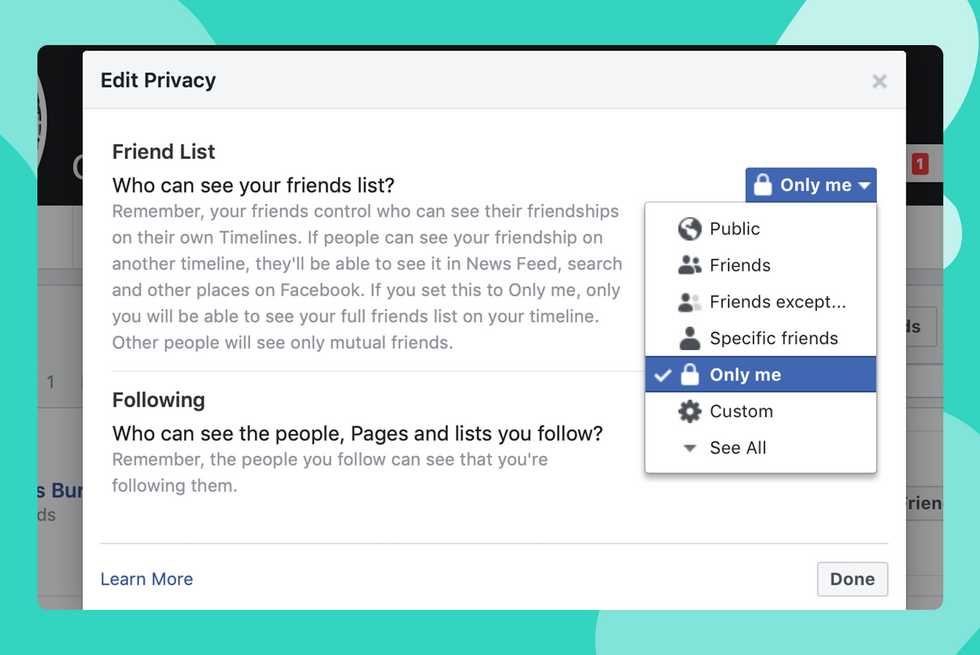 Privacy settings on posts
And finally, we come to the actual posts themselves. You'll need to decide how and whether to privatize your posts, and whether to include historical posts in this decision.
To do this, navigate to the downward-facing arrow at the top right-hand side of any Facebook screen.
Then, follow these directions:
Click the arrow, then select Settings from the drop-down list.
Navigate to the left side of the screen and click on Privacy.
Under Your Activity, click Edit next to the question, "Who can see your future posts?"
Click the Friends down-down list and select the privacy level you'd like. You can choose from Public, Friends, Friends Except, Specific Friends, or Only Me.
To limit any past posts to friends only, click the Limit Past Posts button (or you can manage this on a per-post basis).
The next section, How People Find and Contact You, consists of several other questions that prompt you to adjust privacy settings in a similar fashion.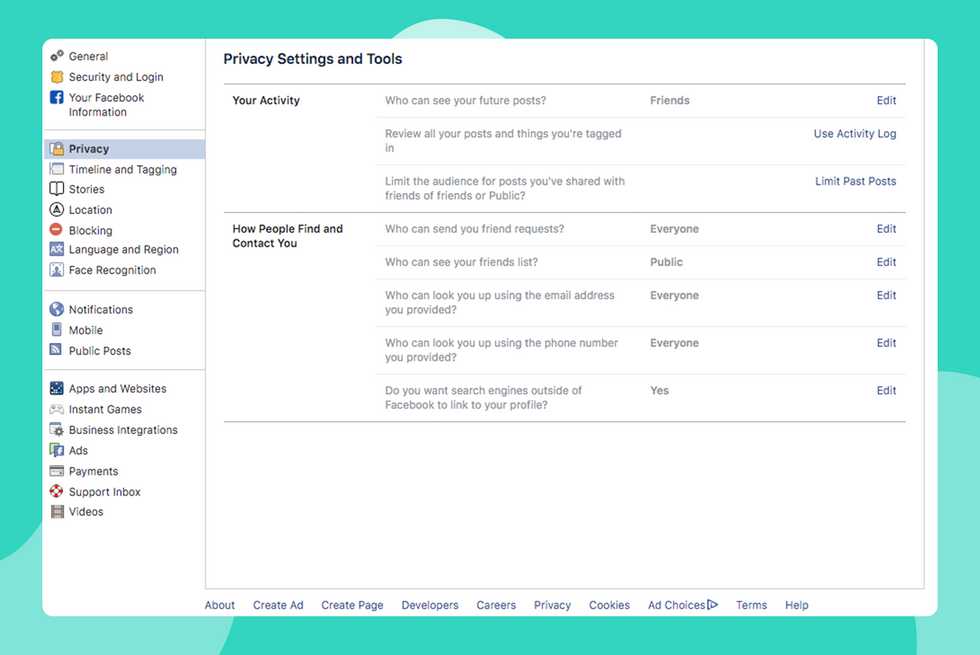 In that section, you'll see a prompt that asks, "Who can send you friend requests?" Here, you can change the default setting, which is everyone, to only allow friends of friends to send you requests. While this certainly helps cut down on unsolicited friend requests, it doesn't eliminate them entirely, which is a bit of a privacy concern.
Why? Because each new friend you add brings with them a whole gaggle of people who can in turn send you a friend request as well. For now, the best thing you can do is only accept friend requests from friends of friends instead of everyone, and be judicious about who you accept requests from, knowing that you'll expose your profile to new people.
Privacy is always relative
Despite this, it's key to remember that anything you post online can always end up with an unfriendly third party, and if it does, there's currently very little that can be done about it. The act of sharing intimate details of your life online, even with a curated list of friends, always comes with a certain amount of risk.
Remember that your friends can share your information with others, or post it on a different site with much looser privacy controls. Worse, they could be hacked, which could land your information in the wrong hands. Nothing you put online is ever truly private, so it's important to always be judicious about what you post. And remember, if you're ever unsure of what you may have posted in the past, running a people search on yourself may reveal old online accounts you'd forgotten about.