Most people would probably agree that Facebook was the first "modern" social media platform. The company exploded onto the scene in 2008 and has enjoyed immense success ever since. By 2011, almost everyone—including Grandma!—suddenly had a Facebook account.
It wasn't long before teens who craved a bit of digital "personal space" began flocking to a different, far more secretive social media platform. That platform is Snapchat. Today, Snapchat is among the most popular social media apps out there, with an estimated 186 million daily active users as of the end of 2018. If you're wondering how to make Snapchat private, you're not alone.
But with an entire platform built around secrecy—Snapchat's photos, videos and chats disappear within seconds rather than being stored as part of a thread—how can Snapchat users ensure their own safety while using the app? Really, you can't, said Matt Diggity, CEO and Founder of Diggity Marketing. "It's a social media app, so privacy goes against its very nature."
But that doesn't mean there aren't certain steps you can take. The real danger lies in not knowing it's possible to do so.
Disclaimer: It's important to realize that having a private Snapchat still means your data is stored in the app. Just like with any social media platform, the app owns everything you post and can glean information about you from that data. The snapshot of Snapchat's privacy policy, below, serves as a reminder: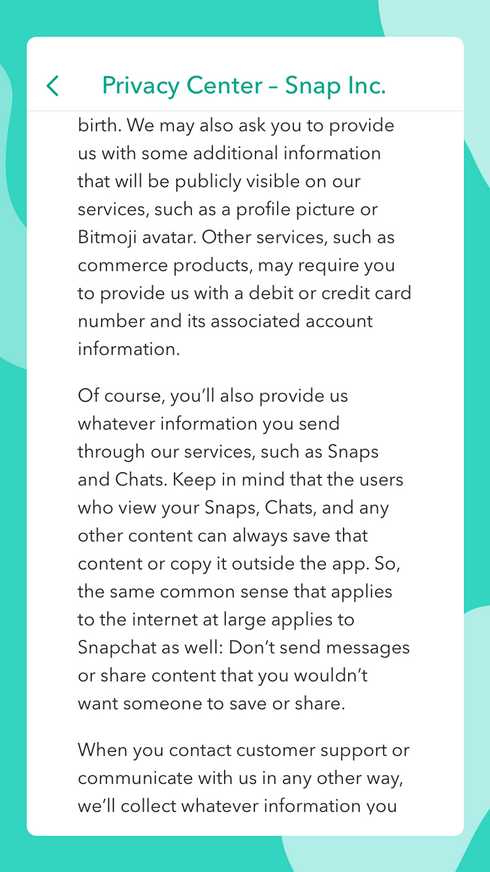 What's more, said Stacy Caprio, founder of Growth Marketing, "some [Snapchat users] accept all followers, even those they don't know. So even if they have a private account, it is really semipublic, since it's available to view upon request by anyone." These are important points to understand before deciding to use Snapchat.
Reasons to make Snapchat private
Snapchat is alluring to teens and young people because it allows users to share literally anything—photos, videos, messages, emotions, and now, thanks to the controversial new feature called Snap Maps, one's exact location in real time. While this might seem like a perk to some, it's the very reason why it's critical to know how to make your Snapchat private.
If you don't, said Diggity, "you could be giving away personal information like what you look like, who your friends are, where you frequent, where you work and live, and much more. There can even be things in the background of your photos that you don't even notice, such as street names." Need more convincing? Here are a few other reasons to make Snapchat private:
You're less vulnerable if one of your friends' accounts gets hacked.
You can control who sees your content.
You can control who contacts you.
You can disable targeted ads.
Your location won't be shared.
How to make Snapchat private
Snapchat offers several privacy features for users. Most importantly, you'll want to manage who can contact you, and view the information you share about yourself and your location on Snapchat. Here's how to do that:
Step 1
In the Snapchat app, navigate to your profile picture, and click on it.
Step 2
Click on the red settings wheel in the upper right-hand corner of the screen.
Step 3
Here, you'll see a screen that contains all of your account settings. Scroll down to the "Who Can…" section.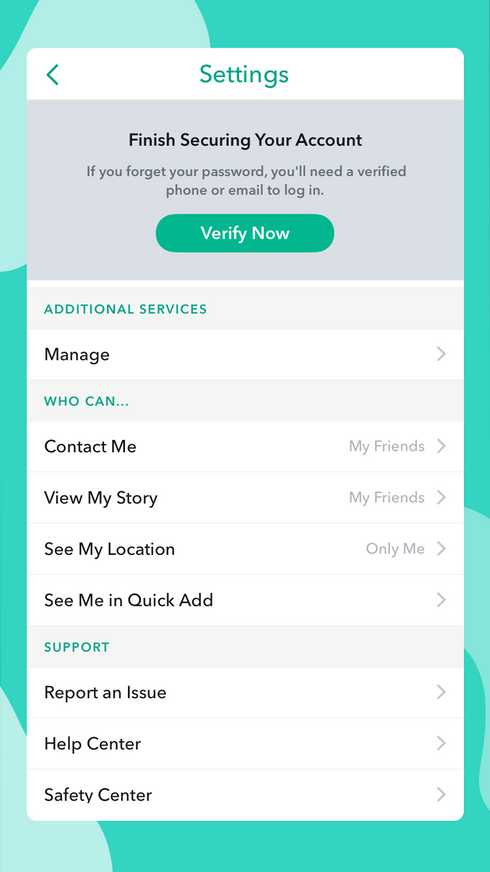 Step 4
Under "Contact Me" select "My Friends" or ensure this is pre-selected. Note that even if you choose "My Friends" anyone you're in a Group with will be able to communicate with you in Group Chat.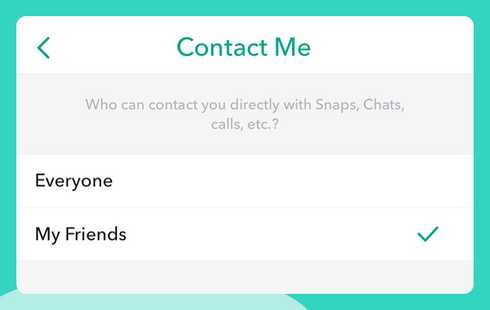 Step 5
Under "View My Story" select "My Friends" or ensure this is pre-selected.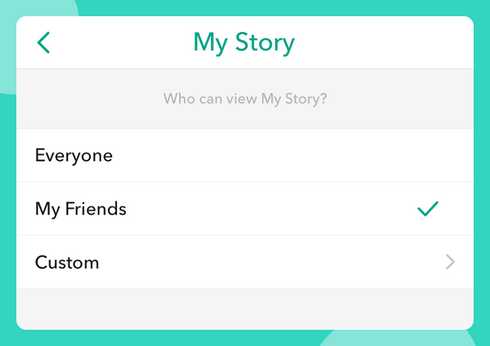 Step 6
Under "See My Location" select "Only Me." This enables what Snapchat calls "Ghost Mode," which in their own words means that "when enabled, your friends can't see your location." Toggling "Ghost Mode" off allows you to customize who sees your content, using filters like, "My Friends, Except" and "Only These Friends," both of which are very similar to Facebook's filters.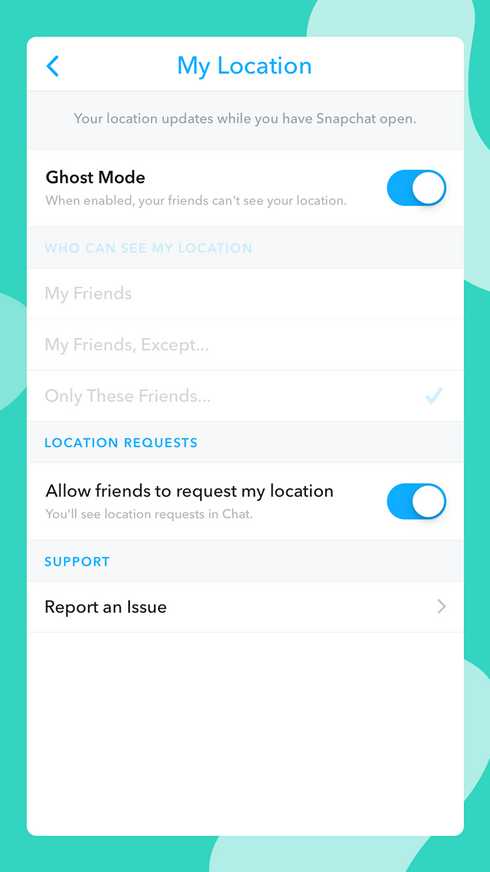 Step 7
For even greater location security, toggle off the button that says, "Allow friends to request my location." This step is especially key for parents setting up Snapchat accounts for minor children.
Once you've adjusted these settings, head back to the main settings page and toggle off the button that says, "Show me in Quick Add."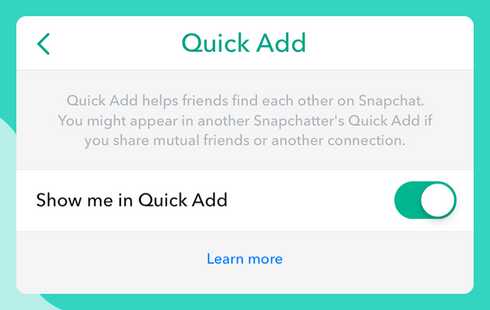 This is an important security feature, since "Quick Add" causes you to pop up as a friend suggestion for any user with whom you have any mutual friends. While this may not seem like a big deal, remember that friends of friends often still qualify as strangers.
How to make a private story on Snapchat
Adding to your story is the highlight of Snapchat, since doing so allows followers to get a glimpse of what you've been up to over the past 24 hours. But maybe you'd like to share something that's too personal for your entire list of friends. It's possible using Snapchat's Private Story feature. What's more, it's simple to do. Below you'll find step-by-step instructions for how to do a private snap, but first you need to know these three types of stories in Snapchat:
Private story. This is a story that only you can add to, and you can choose who can view it.

Custom story. This is a story that allows you to choose who can add to and view it.

Geo story. A Geo story is a relatively new feature that allows you to create a story only for those located near you.
Follow these steps to create your own private snap:
Navigate to the Stories section just like you would to create a regular story.
Above the "Add to my story" area is a button that says, "Custom Story" or "Private Story". Click that button.
A screen will pop up with three selections: private story, custom story, and geo story.
Select "Private Story."
The next screen will allow you to choose which friends and/or groups can view your story.
There's no such thing as complete privacy online
When you choose to share any information at all on such a global platform as Snapchat, it's essential to ensure your content is as private as possible. Just remember that social media is just that—social. There's no way to guarantee that what you post will be completely private. Any company or account can be hacked, so anything you post that goes through the cloud can never truly be called private, said Caprio. Between vulnerabilities in friends' security settings to screenshots, your control only extends so far.